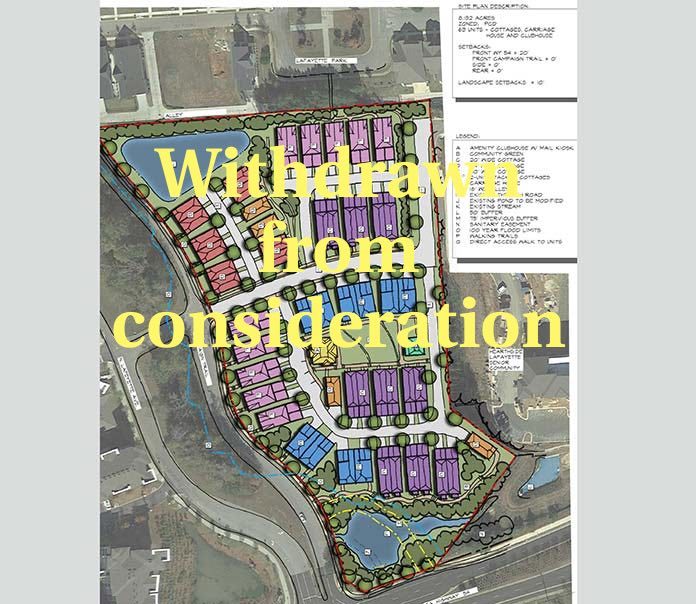 The developer of a planned active adult cottage development along Ga. Highway 54 West in Fayetteville withdrew the application that was on the City Council's Feb. 20 agenda, because the cost to build it has gone up too much, according to a Fayetteville official.
Community Development Director David Rast said OneStreet Residential had withdrawn its application for the development,  noting that construction costs for the revised plans previously discussed with the council were more than anticipated.
A Jan. 27 work session of the Fayetteville City Council had representatives of OneStreet Residential reviewing the proposal for a 63-unit, active adult cottage development near downtown on Ga. Highway 54 West.
The 8.13-acre property is situated between the age-restricted HearthSide Club Lafayette apartments, also owned and managed by OneStreet, to the east and Lafayette Avenue/Campaign Trail to the west.
OneStreet representatives on Jan. 27 said the intent was to modify the current development agreement to provide a less intense, active adult (55 years and up) community, with all the cottages being rentals.
City planning staff at the outset noted that the property was previously zoned in 2014 for a 30-unit memory care building, a 60-unit assisted living building and 24 single-family independent living homes, totaling 114 units in all. The current proposal represents a significant decrease in density.