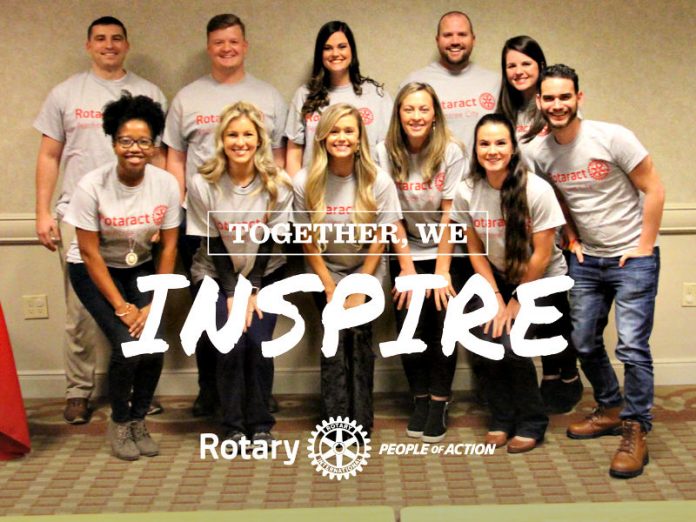 The Peachtree City Rotary Club hosted an induction ceremony for members of the newly chartered Rotaract Club of Peachtree City on January 16.
New charter members include Samuel Bailey, Bryce Benton, Kellie Benton, Austin Childs, Taylor Childs, Faith DeBartola, Azell Francis, Michael Heesch, Ricky Ruiz, Kara Templeton, Brooke Turner, Travis Turner, Scott Wagner, Brooke Wallace, and Jonathan Wallace.
The ceremony was led by Rotary President, Chris Boehm and Rotary New Generations Director, Amy Benton.
Rotaract is a partner of Rotary International for young professionals aged 18-30 who uphold the mission of Rotary – provide service to others, promote integrity and advance world understanding, goodwill and peace through its fellowship of business, professional and community leaders.  Through Rotaract, members develop leadership and professional skills, exchange ideas with other community leaders and have fun through service.
Rotaract was founded in 1968 and now has over 10,000 clubs, 250,000 members and is located in over 180 countries world-wide.
In the fellowship of service, the new Rotaract club inductees participated in their first service project with the Peachtree City Rotary Club and their sponsored Interact Clubs at Counterpane Montessori and Starr's Mill High School to collect over 300 items of winter wear (coats, jackets, blankets, scarves and hats) to donate to Real Life Center to help those in our community in need.
Please contact any Peachtree City Rotaract member or Rotary member for more information on these clubs and how you can also make a difference in our community and around the world.
About Rotary International
Rotary International was founded in Chicago, IL on February 23, 1905.  Rotary is a global network of 1.2 million members across 35,000 clubs.  We believe that we have a shared responsibility to unite and take action to create lasting change – across the globe, in our communities and in ourselves.  Our focus areas are promoting peace, fighting disease, providing clean water, sanitation and hygiene, saving mothers and children, supporting education and growing local economies.  We do this by providing service to others, promoting integrity, and advancing world understanding, goodwill and peace through our fellowship of business, professional and community leaders.  The Rotary Club of Peachtree City was established in 1967 and is the oldest service club in Fayette County.  We have approximately 120 members and we meet each Thursday at noon at the Peachtree City Conference Center.
Submitted by Mandy Timmons, Public Image Director, PTC Rotary Club