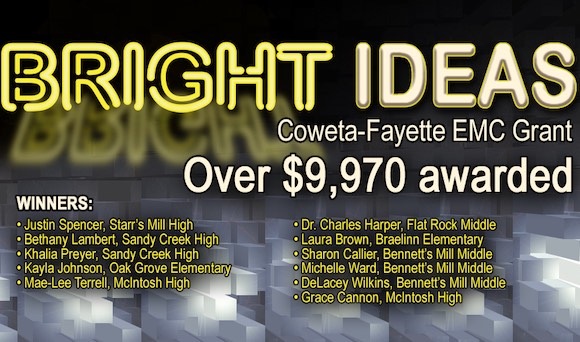 Over $9,970 in Bright Ideas grants have been awarded to teachers in Fayette's public elementary, middle and high schools so that they can implement special programs and projects not covered in their schools' budgets.
The Coweta-Fayette EMC awarded a total of 11 grants to teachers across the county for their innovative classroom ideas. Grant amounts ranged from over $160 to nearly $1,500.
The following teachers received grants for 2019: Justin Spencer, Starr's Mill High; Bethany Lambert, Sandy Creek High; Khalia Preyer, Sandy Creek High; Kayla Johnson, Oak Grove Elementary; Mae-Lee Terrell, McIntosh High; Grace Cannon, McIntosh High; Dr. Charles Harper, Flat Rock Middle; Laura Brown, Braelinn Elementary; Sharon Callier, Bennett's Mill Middle; Michelle Ward, Bennett's Mill Middle; and DeLacey Wilkins, Bennett's Mill Middle.