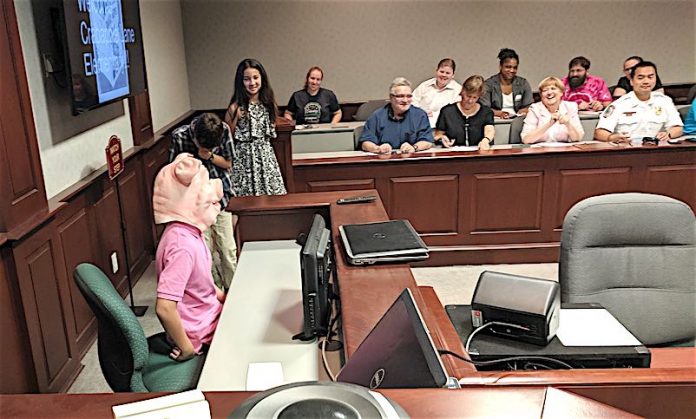 For State Court Judge Jason Thompson, 2019 has been a busy year. After implementing the Griffin Judicial Circuit's first DUI Court in 2016, Judge Thompson has created the circuit's first Veteran Treatment Court.
After receiving a grant from the Council of Accountability Court Judges earlier this year, the Fayette County Veterans Treatment Court started in July. The goal of this accountability court is to identify veterans with either substance abuse or other issues that can choose increased treatment instead of incarceration.
The Veterans Treatment Court will consist of prosecutors, defense attorneys, probation officers, treatment providers and representatives from the Veterans Administration.  Additionally, each veteran will be partnered with a military peer to assist their progress in the program. The mentoring program will be supervised by The Eden Group.
"Our veterans have served us for so many years. This is our turn to give back and help where we can," Judge Thompson said.
Judge Thompson said the DUI/Drug Court program has blossomed this year and there are more participants than ever. In 2019, the DUI/Drug Court had the largest number of graduates successfully complete the program.
This year Judge Thompson was asked to assist Emory University with a summer legal program with visiting judges from China studying the American judicial system. He was also asked by John Marshall Law School to participate in a special program on Accountability Courts. As a trial judge, Judge Thompson also presided over the final exercise in the Basic Trial Skills Program for new Georgia prosecutors.
Additionally, there have been several students that "shadowed" Judge Thompson for the day.  These students meet with Judge Thompson before the court session and then observe the court proceedings. After the hearings or trials, Judge Thompson met with the students to discuss the legal proceedings.
In an effort to visit with as many students as possible, Judge Thompson continued to visit every school in Fayette County. Whether it was an elementary, middle, or high school, Judge Thompson has a program that he brings to all levels of education. With the younger students, he discusses the roles of the judiciary and the branches of the government. In the middle school and high schools, he uses his "Actions and Consequences" program to let students know the perils they face if they make poor choices.
Judge Thompson also hosted a class from Crabapple Lane Elementary School that conducted a mock trial based on Little Red Riding Hood. He presided over a mock trial over "The Tell-Tale Heart" at Whitewater Middle School, the Laws of Life Essay contest for the Peachtree City Rotary Club, and the Most Improved 5th-Grade Student Awards for the Metro Fayette Kiwanis Club.
Judge Thompson also volunteered for the Georgia High School Mock Trial Program and hosted the Leadership Fayette "Judicial Day" for the Chamber of Commerce as well as spoke to local community organizations. Judge Thompson also provided internship opportunities for students.  The high school, college, and law school interns that worked in State Court were also recognized by the Board of Commissioners.
If any student is interested in internships or "shadowing" opportunities, please contact Maricarmen Dobson at 770-716-4270 or mdobson@fayettecountyga.gov. If any organization is interested in learning more about the DUI/Drug Court or the new Veterans Treatment Court, please contact Martha Hall at 770-716-4328 or mhall@fayettecountyga.gov to schedule an opportunity for Judge Thompson to speak at your next meeting.