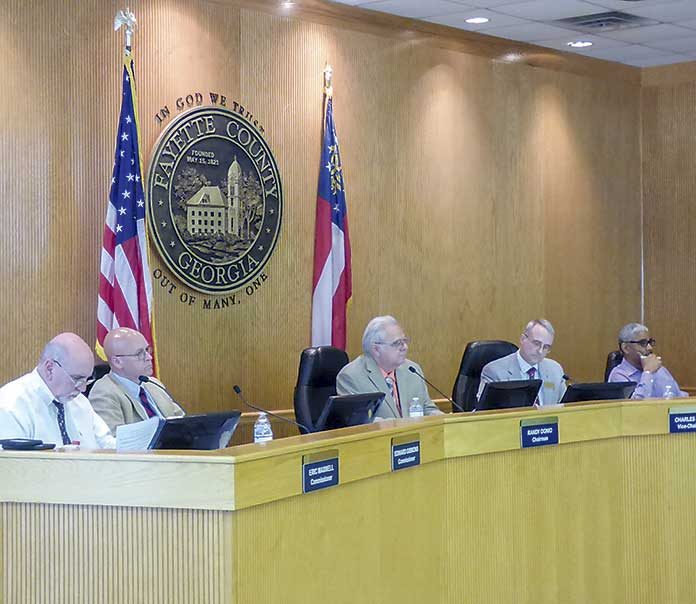 Though commissioners did not want to give approval, an Aug. 8 rezoning request by TSTT Investments, LLC to have 213 acres on Ebenezer Road rezoned as a Planned Unit Development (PUD) for 91 residential lots of 1-4 acres came with a 4-0 vote in favor of the applicant.
The Aug. 8 commission vote was unanimous, minus the vote of Commissioner Eric Maxwell, who was not at the meeting.
A number of nearby residents at the meeting spoke against the approval.
The move by the commission came with the understanding that voting against the request would land them in court facing contempt of court charges.
"We fought the fight. At this point, we are where we are," said Chairman Randy Ognio. "At this point we've got to a abide by the order."
Commissioners in 2018 approved the parcel for 2-acre residential lots as an attempted compromise. The company last year, after a successful lawsuit and a court order, said it would be back if the zoning category could not appropriately generate at least 91 lots.
Christopher Balch, the county's litigation counsel, was clear on Aug. 8 that the recent appeal decision was final and binding. Balch reiterated that failure to comply with the previous ruling by Superior Court Judge Chris Edwards, that commissioners approve the applicant-requested zoning or else, would put the board in the position of being in contempt of court.
Edwards earlier in 2018 ruled in favor of the developer, and cited the 2016 action by the commission in denying the proposal to build the 91-home subdivision as unconstitutional based on the county's comprehensive plan, then in effect.
Edwards' ruling was appealed by the county and landed at the offices of the Georgia Supreme Court, where that court declined to hear the case, returning it to Edwards.
Edwards subsequently ordered the rezoning request back to the commission, noting that "… if plaintiff remains convinced that the new decision is also unconstitutional, then it may reappear before the court via application for contempt."
"I don't see any outs except to risk contempt," then-Chairman Eric Maxwell, an attorney, said in 2018 in an effort to find ground with which the developer might agree. "Generally, you go to jail until you purge yourself of that contempt."