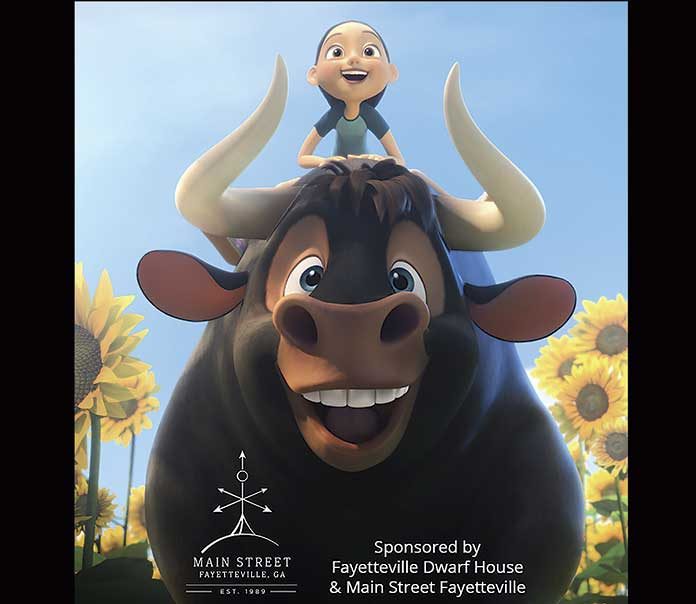 "Ferdinand" plays for Free Moovie Night — 
Join Fayetteville Dwarf House and Main Street Fayetteville for an evening of fun and laughter as they present the next Free Moovie Night on Friday, July 26, at Zac Brown's Southern Ground Amphitheater.
Gates open at 7, and admission is free for all. Guests are welcome to bring lawn chairs, blankets and picnic fare.
The first 400 guests aged 12 and under will receive a free Chick-fil-A Nuggets Kids Meal, and there will be other treats and surprises as well.
Contact Joyce Waits for more information: jwaits@fayetteville-ga.gov or 770-719-4173.
Southside Sidekicks perform in free concert in Fairburn
The Southside Sidekicks Improv Troupe will be the featured act for the "Night of Comedy" edition of Fairburn City's Friday Night Concert Series July 26. The event takes place from 8 to 10 p.m. at the Frankie Arnold Courtyard Stage and follows the popular Farmer's Market which opens at 5. Several food vendors from the market will remain open during the performance for purchases. Patrons are encouraged to bring lawn chairs to compliment their enjoyment of this troupe's fun, family friendly entertainment. 
The Southside Sidekicks Troupe is a relatively new component of the well established Southside Theatre Guild, and the group's previous performances have quickly gained a growing fan base! It's members are dedicated to bringing laughter and amusement to the hearts and minds of their audience.
Current players include: Amy Beaucham, Katy Durham, Margo Heath, Josh Hendricks, Jonny May, Lance Smith, Lily Smith, Keith Williams and Creative Director Drew Turner. As part of The Southside Theatre Guild's 2019-20 season, the troupe is scheduled to also perform on the STG stage at 20 W. Campbellton Street in Fairburn from 8:00 to 10:00 on the following Friday evenings: October 18, January 24, March 20, and May 15. These shows are suitable for all ages and laughter is guaranteed!
Blood Drive at Police Department
A blood drive will be held Friday, July 26, at the Peachtree City Police Department from 10 a.m. to 5 p.m., at the Police Station (350 Hwy 74 S). Donors will enjoy a free lunch, and receive a free cholesterol screening. Donors must be 16 or older, weigh at least 110 lbs., and show photo I.D.  Sixteen-year-olds must have written parental permission.
Sign up to save lives at https://donors.lifesouth.org/donor/schedules/drive_schedule/600930