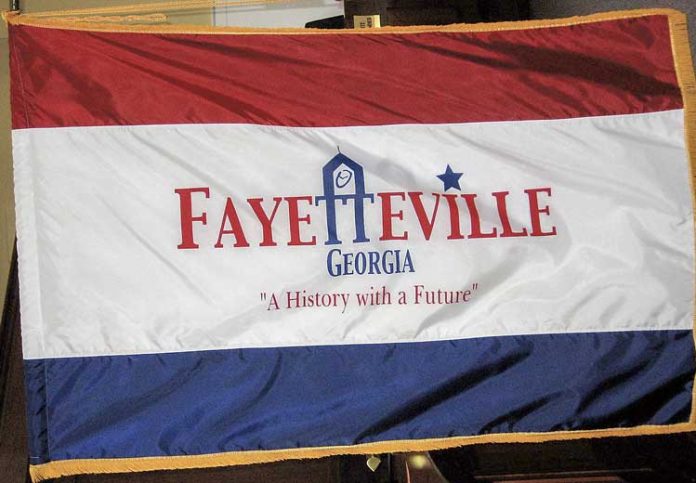 5 multistory buildings fronting the square would feature some commercial uses
April 23 marks the next step toward the evolution of downtown Fayetteville. Proposed for the northwest corner of Lanier Avenue and North Glynn Street, and extending to Lafayette Avenue, is a mixed-use development with nearly 18,000 sq. ft. of commercial and 225 apartments.
Meridian on the Square developer Miles Hill, who built the Meridian Apartments at Lafayette Avenue and Ga. Highway 54, is proposing to have 6.81 acres between Lanier Avenue and Lafayette Avenue and extending east a portion of the way toward Tiger Trail to be the site of the mixed-use development.
Already zoned C-1 (downtown commercial which includes mixed use), the proposal calls for five buildings, with most being 3- or 4-story, to provide for 17,830 sq. ft. of commercial and 225 apartments.
Of the five buildings, the proposal shows one building fronting Lafayette Avenue, one building fronting Lanier Avenue, one fronting North Glynn Street, one in the interior of the property and one, essentially an L-shape, at the corner of North Glynn and Lanier. At least two of the buildings would feature residential over retail.
The residential component will include an amenity area and a limited number of garages.
Commercial and residential parking would be limited to the interior of the property.
The proposal is asking for several variances. Of those, some have to do with buffer and greenspace areas, while others ask for a variance on the number of parking spaces and building height.
The parking space variance asks for a reduction to 439 spaces from the required 536, while the request on building height asks for an increase from 60 feet to 66 feet.
The city comprehensive plan calls for an expanded downtown area, with additional commercial and residential offerings that include increased density.