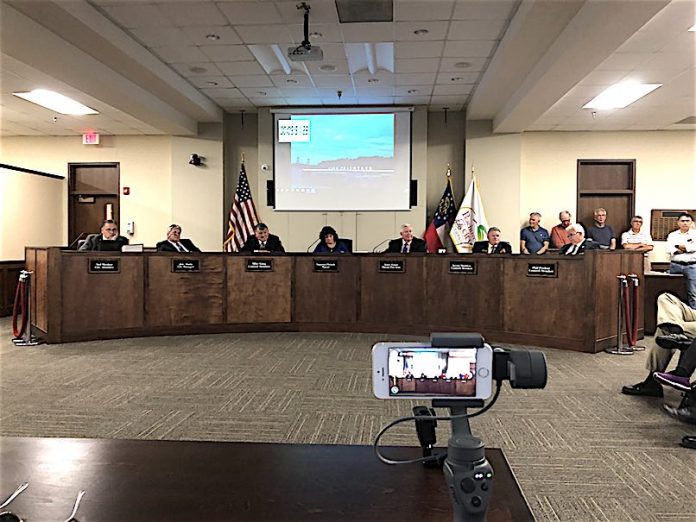 Faced with a sometimes angry standing-room-only crowd, a defensive but ultimately chastened City Council voted 5-0 Thursday night to bury a resolution that would have authorized the city to pay for lawsuits by city officials against citizens accused of defaming them in social and other media. [Watch The Citizen's Facebook Live video, beginning at the 1:44:06 mark.] — 
After being forced to wait their turn through nearly two hours of routine Peachtree City Council business, dozens of citizens — many standing against the walls of council chambers — exercised their First Amendment rights to demand that a sometimes stony-faced mayor and council reject a resolution that would have the city paying for defamation lawsuits against its own citizens.
Those lined up in passionate favor of free speech ranged from a 12-year-old Booth Middle School girl to a man whose voice had been taken by cancer, from a Vietnam War veteran and four-decade resident of Peachtree City to an AP Government McIntosh High School student, from people in suits to people in shorts, in voices that roared and voices that shook, in tones that pleaded and words that drew cheers.
By night's end more than 30 multi-racial, multi-ethnic and multi-political speakers had decried the agenda item whose authorship was denied by council members and whose purpose was defended by Mayor Vanessa Fleisch and Councilman Mike King as an attempt to "protect" volunteers and rank and file city workers from harsh social media words that falsely accused them of crimes.
Speaker after speaker reminded the council that it was taxpayer money being deployed against words, not actions, and most urged the allegedly defamed city officials to use their own money to defend their individual honor, not taxpayers' money.
Interviewed after the unanimous vote to deny the expanded indemnification resolution, Mayor Fleisch said to a Fox5 TV reporter that the idea of city-funded lawsuits was dead, never to be considered by them again.
No apologies from the mayor or the city manager, Jon Rorie, both of whom had just the day before in separate television interviews defended the need for the lawsuit power against citizens.
Instead, Fleisch, King and others blamed the controversy on their inattention to what was being placed on the council's Thursday night agenda and pledged to pay more attention in the future. Several citizens demanded to know whose idea it was to vote on the resolution, but no one claimed credit for the resolution's origin. In addition, King raised a complaint against an unnamed local newspaper editor for reporting only part of the story in recent days, rather than the whole story.
After the crowd cleared out of the chamber to make room for a closed-to-the-public executive session, the council voted to pay for and mount a joint legal defense with the Peachtree City Water and Sewer Authority against a city resident who had accused them of conducting an illegal meeting.
[CLARIFICATION added 4 p.m. April 19] The city and WASA's action is in response to an open meetings lawsuit filed against the two boards earlier this year by John Dufresne, who was the volunteer WASA board chairman until last summer. Dufresne filed the original legal action against them in March of this year.
Acting under the authority of local legislation, the council members in 2018 became the WASA board members in addition to their legally separate council positions, and removed the WASA volunteers from their unpaid positions.
Neither WASA nor the council filed the original lawsuit against Dufresne, but both WASA and the council — as defendants in the lawsuit filed by Dufresne — are asking the judge in the case to rule against Dufresne and to order Dufresne to pay the legal costs incurred by the city and WASA in defending against Dufresne's lawsuit.