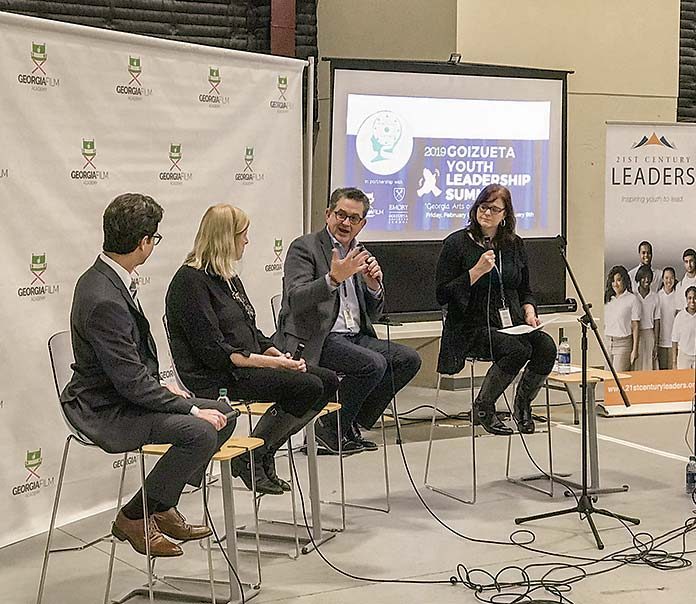 "Enormous amount of money being spent making content … So there's not enough crew and facilities to spend that money" —
The Georgia Film Academy at Pinewood Atlanta Studios in Fayetteville on Feb. 7 and 8 was the setting that gave more than 75 high school students from across Georgia who have been accepted into 21st Century Leaders organization a close-up look at the creative industry.
They were told that more and more people involved in the film business here have swapped their out-of-state tags for Georgia tags and local homes.
Among the activities at the two-day 2019 Goizueta Youth Leadership Summit was a panel discussion that included Georgia Film, Music and Digital Entertainment Deputy Commissioner Lee Thomas, Georgia Film Academy Executive Director Jeff Stepakoff, and Pinewood Atlanta Studios President Frank Patterson. The panel was moderated by Kate McArdle, director of the film's academy's Workforce Development initiative.
Patterson in his comments told the students that Pinewood Atlanta is the second largest purpose-built studio in North America. At first, a lot of the crew members were from New York and California, but over the past years many of them have become Georgia-based, Patterson explained.
Whether film, television or any of the creative arts, Stepakoff referencing the rapid growth of the industry in Georgia said it is exploding due to the film tax credit, infrastructure and the workforce.
Noting how much of the workforce activity at Pinewood Atlanta has become more local in nature, both Patterson and Stepakoff remembered how the Pinewood Production Centre parking lot was once populated with a majority of vehicles from other states. Today, they said, the reverse is seen.
Assessing the current status of the creative industry as a whole, Patterson said, "There is a tectonic shift going on. There is an enormous amount of money being spent making content, now more than ever. So there's not enough crew and facilities to spend that money."
Given the rapid expansion of all types of media, and varied types of jobs that are required, the demand for an expanding workforce is more evident. Citing an example, Patterson said, "There is a need for visual effects artists. There are not enough of them in the world (to currently meet the growing need)."
Stepakoff agreed, adding that a part of the mission of the Georgia Film Academy is to provide enough below-the-line crew members.
"We're meeting the core mission," Stepakoff said.
Thomas, too, offered a similar take on the current status of jobs in the industry. There are currently 92,000 people working in the film industry in Georgia. Of those, 23,000 are in production, while the remainder are working in ancillary businesses, she said.
"There are more than 3,000 companies that serve the industry," she said.
"And across the street (at Pinewood Atlanta Studios), there are 40 companies on the lot," Patterson added.
Continuing on that line of thought, Stepakoff said content, story, is a great commodity.
"Yet thousands of people are needed to bring it to life," he said.
It was earlier in the day that Thomas provided a numer of tips for the students wanting to get in on the production end of the industry. It seemed that a number of those tips apply in many other job areas. A sampling of those included: be creative and persistent; know the background of the person you are meeting with; be realistic about what you are qualified to do; do a good job and you will be noticed; treat everyone with respect; and never say "that's not my job."
Students at the two-day event heard from others involved in the creative industry and took a driving tour of Pinewood Atlanta Studios.