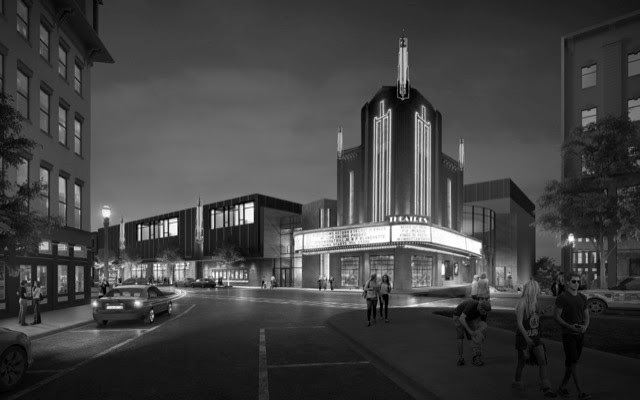 The latest preview of coming attractions at Pinewood Forest was announced Dec. 20. The large mixed-use development on Fayetteville's west side will feature a boutique cinema featuring movies, live performances and other events and is expected to open in 2020.
Pinewood Forest on Thursday announced the development of a luxury cinema expected to break ground mid-2019. The development, a partnership between real estate firm Pace Lynch Corporation, Spotlight Theatres and Alerion Services, is projected to open in 2020.
"Our team is excited to help bring a luxury movie theatre concept to Pinewood Forest and the Fayette County community," said Joseph Paletta III, President and CEO of Spotlight Theatres, Inc. "We are confident that this entertainment venue will far surpass expectations in terms of technology and service."
While additional details will be released in the months ahead, all auditoriums will feature the latest Immersive Digital Audio complementing all digital 4k projection producing an enhanced movie-going experience, while providing the highest quality sight and sound presentation available. Patrons will experience VIP luxury seating that reclines with wide spacing between rows for extra legroom and an unobstructed view of the wall-to-wall screens.  Amenities such as online advanced ticketing, will-call, reserved seating, an expanded concession menu and the option to choose a full dining experience will set this location apart from any other movie-going experience south of Atlanta, according to Pinewood Forest.
The architect team, BoggsVickers and THW Design, plans to build a cinema featuring eight auditoriums with 800 VIP lounge chair seats, as well as restaurant and bar amenities.  The theater will be the first state-of-the-art cinema facility of its kind in south metro Atlanta, developers said.
"Pinewood Forest is thrilled to reveal plans for the boutique theater," said Rob Parker, President of Pinewood Forest. "The state-of-the-art facility will complement our vision for Pinewood Forest to become a premier entertainment, culinary and wellness destination in the Southeast. Pace Lynch and Spotlight are the perfect partners for this project, delivering upon our vision of a town for creating unlike any other."
Anticipated to bring more than 240,000 visitors to Pinewood Forest each year, the multi-faceted theater will host blockbuster films, such as those produced at the adjacent Pinewood Atlanta Studios, as well as a variety of other film and video content, live performances, broadcasted sports and entertainment events, corporate events and more, developers said.
"We're proud to bring an exceptional boutique movie-going experience to Pinewood Forest," added Bill Lynch, Project Director for Pinewood Forest and principal of Pace Lynch. "The theater will add another dimension to our walkable community and South Metro Atlanta – a unique place where residents and visitors alike can get a workout in or take a swim at the wellness center, meet a friend for coffee, enjoy a world class meal, and see a movie or attend an event, without ever needing a car."
"Georgia is a world leader in feature film production and Pinewood Forest is the perfect place to experience that artistry," added Parker.