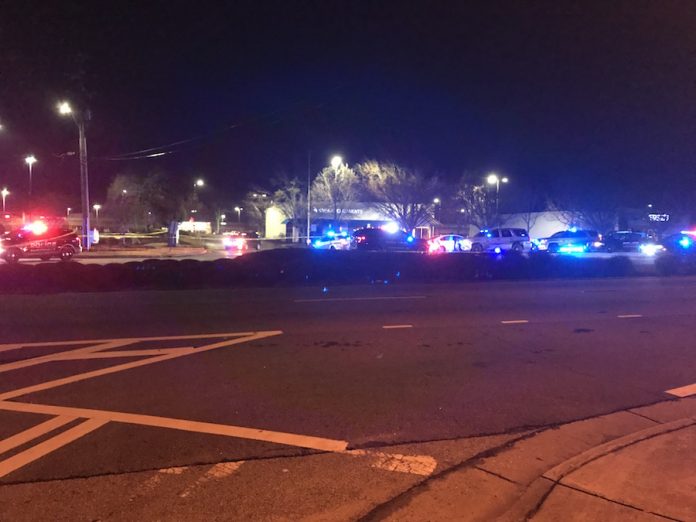 A Dec. 21 attempted traffic stop originating in Meriwether County ended with the suspect brandishing a weapon, and subsequently being shot by officers, on Ga. Highway 85 North in Fayetteville after a pit maneuver was used to stop his vehicle. The driver of the vehicle is in critical condition. Photo/Ben Nelms.
What began Friday night as an attempted traffic stop in Meriwether County turned into a three-county pursuit that ended on Ga. Highway 85 North in Fayetteville, with the lone occupant of the vehicle, 36-year-old Stone Mountain resident Rodriguez Kemp, shot by officers after brandishing a shotgun and firing on officers. The man is in critical condition at Grady Hospital. No officers were injured in the incident.
Commenting on preliminary aspects of the investigation at a 1 a.m. press conference, Georgia Bureau of Investigation (GBI) Assistant Special Agent-in-Charge Josh Ayer with the Region 2 Field Office said the series of incidents that led to the shooting originated in Meriwether County as a traffic stop by Meriwether sheriff's deputies.
Pertaining to the incident, Ayer later on Dec. 22 said, "Officers from the Fayetteville Police Department and Fayette County Sheriff's Office approached the vehicle to arrest Kemp. At this time, Kemp, armed with a shotgun, began to fire upon the officers approaching his vehicle. After being fired upon, officers returned fire, striking Kemp numerous times."
Ayer at the press conference referencing the initial attempt of a traffic stop in Meriwether County said the driver did not stop and a chase ensued, with the subject entering Coweta County where Coweta deputies and Senoia police were briefly involved, Ayer said.
Ayer said the chase then entered Fayette County, with Fayette County deputies making contact with the vehicle, along with Fayetteville police who got involved.
At one point during the chase Fayetteville officers deployed spike strips, which were somewhat effective, said Ayer. A deputy subsequently performed a pit maneuver on the vehicle in regard for public safety, at which point the vehicle came to a stop adjacent to the Banks Station retail area on the northbound side of Hwy. 85 North.
"Officers attempted to arrest the subject in the vehicle. When getting out of their vehicle to go arrest the subject, the subject brandished a firearm," Ayer said. "It is unknown at this time if that firearm was fired. Officers saw him with a firearm, returned fire and the subject was struck multiple times."
Ayer said the subject, whose name had not been released at the time, was in critical condition at Grady Hospital.
Stressing that the GBI investigation of the incident was just getting underway, Ayer said various aspects of the incident, such as if one or more than one of the officers fired or if the suspect fired his weapon, are not currently known. Ayer did note that there was a weapon on the ground that was not a law enforcement weapon.
Ayer noted there were no injuries to officers at the scene.
"(The officers) are okay physically. No one wants to go through anything like this," Ayer said. "It's a lose-lose situation for everyone involved. They did what they were trained to do, from what we can tell so far. Body cameras and dash cameras are being downloaded by the sheriff's office and police department."
GBI will conduct the investigation and will turn the results over to District Attorney Ben Coker's office.
Sheriff Barry Babb at the press conference said, "We go to work every day trying to expect the unexpected because nothing is routine. We take this seriously. We train hard, we work hard, to protect our citizens. Sometimes a suspect makes officers make that deadly force decision. We feel confident at this time that everything will be okay."
Babb said that, by procedure, the officers involved will be put on administrative leave during the GBI investigation.