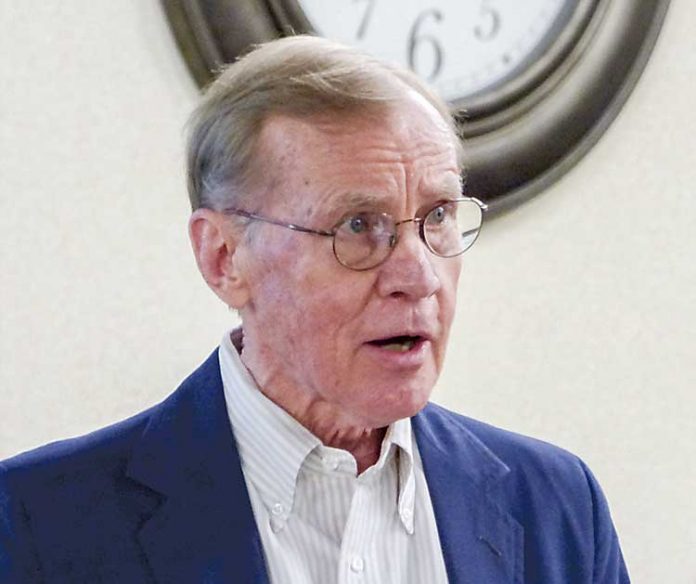 PTC Council continued hearing for 16 homes on 6.5 acres to March
A proposed residential rezoning request along Senoia Road up for consideration by the Peachtree City Council on Feb. 15 was continued until the March 15 meeting.
---
Above, Jerry Peterson speaks for Senoia Road residential rezoning at Peachtree City Council. Photo/Ben Nelms.
---
Situated on 6.5 acres, the request by developer Chadwick Homes and project representative Jerry Peterson proposed 16 lots that are 60 feet in width and 100 feet in length. The site contains a pond which could be used as an amenity.
Situated at the city's northwest limits, the property is bordered on the north by commercial property in Tyrone, on the west by Tyrone, CSX railroad and Senoia Road, on the south by the Saranac subdivision and on the east by the Ardenlee subdivision.
Now zoned A-R, signifying lots of one acre or more, Peterson said the property, including a pond, would allow for only a small handful of homes under the current zoning, adding that the cost per home could run up to $1 million. He said the proposal calls for 16 homes ranging from 2,200-3,000 st. ft. and with a price point of approximately $400,000.
"There is no longer any use for the current zoning," Peterson said.
In terms of density, the Senoia Road property, as proposed, would have 2.4 units per acre, while the adjacent Saranac is 2.7 units per acre and Ardenlee is 2 units per acre.
A number of people took to the podium for public comments. All spoke highly of Chadwick Homes, with several noting that Chadwick built Saranac.
Nearly all said their problem was with stormwater runoff, some of which originates on the property to be rezoned.
Council members, along with residents, expressed concerns about runoff. Addressing the issue, Chadwick Homes owner Chad Floyd said grading at the site on a 3-5-degree slope would address some of the concern. Floyd suggested the agenda item be continued to allow time to have preliminary engineering done to address other potential runoff mitigation issues.
Council members agreed and voted unanimously to continue the item at the March 15 meeting.
The Peachtree City Planning Commission on Dec. 11 recommended denial.