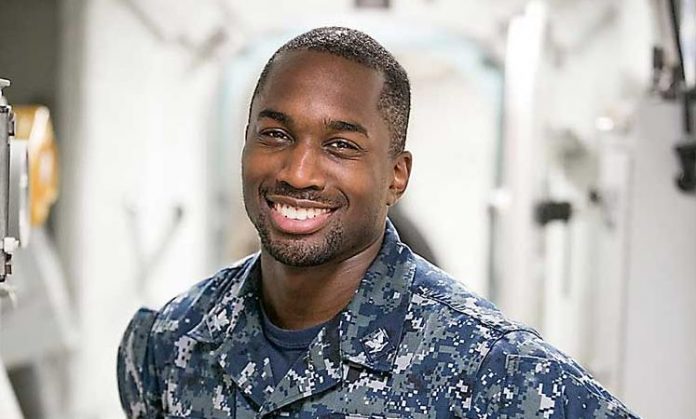 YOKOSUKA, Japan – A Tyrone, Ga., native and 2012 Sandy Creek High school graduate is serving in the U.S. Navy aboard the guided missile destroyer, USS Stethem.
Petty Officer 3rd Class John Jackson is an operations specialist aboard the forward-deployed Arleigh Burke-class guided missile destroyer operating out of Yokosuka, Japan. Stethem is one of eight destroyers forward-deployed in Yokosuka.
A Navy operations specialist is responsible for operating the communications, radar, and navigation equipment that tracks ships, aircraft, and enemy missiles and communicates tactical information to supervisors and other operators.
"My dad taught me a good work ethic which helps me with staying positive and pushes me to keep striving to achieve my goals," said Jackson.
Approximately 300 men and women serve aboard the ship. Their jobs are highly specialized and keep each part of the ship running smoothly, according to Navy officials. They do everything from maintaining gas turbine engines and operating the highly sophisticated Aegis weapons system to driving the ship and operating small boats.
Forward-deployed sailors are crucial to the success of the global Navy mission and earn high praise from their leaders.
"Being forward deployed here the work schedule is rigorous because we are always out to sea and there are multiple tasks happening at the same time but it is worth it because it was a dream of mine to be deployed here," said Jackson. "I was the top operation specialist (Top Ops) of the month and it felt good to be recognized for my hard work which drives me work harder and do better."
Sailors serving abroad in Japan are highly motivated and quickly adapt to changing conditions, explained Navy officials.
"It feels good to serve in the Navy because I want to have peace in the world," added Jackson. "Working with other countries is a step in the right direction and it feels like I am contributing to a bigger and better cause."
With more than 50 percent of the world's shipping tonnage and a third of the world's crude oil passing through the region, the U.S. has historic and enduring interests in this part of the world.
"Our alliance is rooted in shared interests and shared values," said Adm. Harry Harris, Commander, U.S. Pacific Command. "It's not hyperbole to say that the entire world has benefited from the U.S.-Japan alliance. While our alliance helped stabilize the region after the Second World War, it also enabled the Japanese people to bring about an era of unprecedented economic growth. And for the last six decades, our soldiers, sailors, airmen, Marines and coast guardsmen have worked side by side with the Japan Self Defense Force to protect and advance peace and freedom."
With the ability to conduct anti-air warfare, anti-submarine warfare and anti-surface warfare, destroyers are capable of sustained maritime operations supporting forward naval presence, maritime security, sea control, deterrence of aggressive actions on U.S. partners around the globe, as well as humanitarian assistance. Fast, maneuverable, and technically advanced, destroyers provide credible combat power, at and from the sea. — By Mass Communication Specialist 1st Class Robert Zahn, Navy Office of Community Outreach