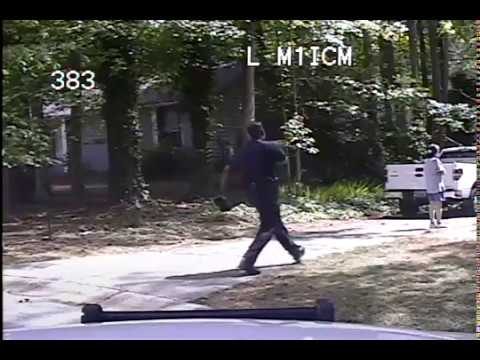 Peachtree City Police have released three videos from a domestic incident which resulted in the death of a Peachtree City man on Wednesday, May 3. When officers responded to a father-son dispute on Gelding Garth in Glenloch Village, the father fired a shotgun at arriving police.
Police returned fire and fatally wounded the man, identified as William Deen, a 67-year-old white male, according to Police Chief Janet Moon.
One of the videos showed a woman at the end of the driveway talking with what appears to be the first officer on the scene. They walk down the driveway and someone off camera tells the officer  "He said he's going to get (inaudible) and kill me. You see I have injuries, don't you?"
The conversation continued briefly, then the officer yells "Sir" and begins to back up and on his radio says, "He's got a rifle."
The officer, now at the end of the driveway yells to the other parties to get out of the way. Someone near the house can be heard screaming off camera.
The officer then notifies other officers that, "He has a rifle," and begins yelling empathically and repeatedly, "Put it down. Sir, put it down" and then tells fellow officers," He pointed it at me."
The officer yells at the person/s near the house to get out of the way, and another officer yells, "He's' got a rifle pointed at him."
Despite repeated commands to put the gun down, gunfire is soon heard along with smoke coming from near the white truck parked in the driveway near the house and in the direction of one of the patrol units. Soon what appeared to be two other shots were fired and the officer by his patrol unit near the driveway says, "He's down."
Within seconds two other officers carrying rifles enter the driveway and approach the house.
Another video showed a third officer arriving. One or more shots were fired as the officer arrived at a patrol unit near the house. Both officers near that unit ducked for cover in response to the gunfire. The officers yelled out, "Shots fired."
One of the officers appeared to fire in the direction of the house and yelled to the officer near the house, inquiring about the status of the situation. Someone near the house was heard screaming. The officers then approached the residence.
Yet another video showed the arrival of a patrol unit, along with what appeared to be the officer in the first unit, out of camera range, yelling repeatedly, "Put it down."
Shots can be heard, then the officer again yells to put the gun down."
Smoke can be seen coming from the area of a white vehicle parked in the driveway near the house.
Someone then yells, "He's down."