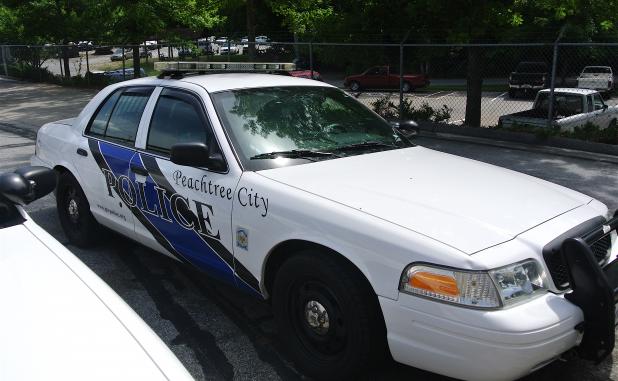 UPDATED 8:20 p.m., Wednesday, May 3 — Domestic dispute turns deadly as PTC cop shoots shotgun-wielding father.
It was a father-son domestic dispute that went bad when the father fired a shotgun at arriving police.
Police returned fire and fatally wounded the man, identified as William Deen, a 67-year-old white male, of Gelding Garth, in Glenloch Village, according to Police Chief Janet Moon.
Nobody else was hurt, Moon said.
It began around 3:30 Wednesday afternoon in one of the city's older east side neighborhoods off Ga. Highway 54 and between Peachtree Parkway South and Robinson Road.
The elder Deen got into a "physical" altercation with his son, who was not identified by police.
Responding to the police call were Sgt. James Harris and Officer Darrell Davis, Moon said. They had been tipped that Deen kept a firearm in his garage, she said.
Deen was outside in his driveway with a shotgun when police arrived and at some point fired the weapon. One officer was about 25 yards from Deen and the other officer about 50 yards away, police said.
Sgt. Harris used his patrol rifle to fire a single round, striking Deen in the head, police said.
"Upon Mr. Deen firing his shotgun in the direction of officers, Sgt. James Harris fired his patrol rifle, striking Mr. Deen, resulting in Mr. Deen's death," Moon said.
Commenting on patrol officers carrying rifles, Moon said officers who are certified to do so carry a rifle and shotgun.
Sgt. Harris is white and Officer Davis is African-American, Moon added.
Moon said the Georgia Bureau of Investigation was immediately called and took charge of the officer-involved shooting case.
While officer-involved shootings have been in the national news in recent years, this is thought to be the first time a Peachtree City officer has been involved in the shooting death of a city resident. — Reported by Ben Nelms.
=================================
UPDATED 5 p.m. Wednesday — A Peachtree City man was killed by Peachtree City police officers at his home Wednesday afternoon. The shooting occurred subsequent to a physical altercation between the man and his son, and after the man fired a shotgun in the driveway.
Police Chief Janet Moon in preliminary statements said officers were dispatched to 111 Gelding Garth in the Glenloch area after reports of a domestic dispute. Officers learned that the father, whose name has not been released, kept a shotgun in the garage, Moon added.
The man had been in a physical altercation with his son, said Moon.
Officers at the scene reported a shotgun being fired by the father while in the driveway and within 25 yards of one officer and within 50 yards of a second officer, Moon said.
Moon said one of the officers returned fire with a rifle, striking the father in the head. The man died at the scene, said Moon.
Moon said agents with the Georgia Bureau of Investigation are on the scene and are investigating the incident.
Moon added that none of the officers at the scene were injured.
=============================
First post
One person is dead following an exchange of gunfire Wednesday afternoon in the Glenloch Village area.
"We are working two separate calls with emergency personnel. One is an officer involved shooting in the Glenloch area where a suspect involved in a domestic violence call shot at officers on their arrival. Officer was able to return a single round from his rifle resulting in the death of the shooter. GBI is on scene and handling the investigation. No officers were injured," according to the Facebook page of the Peachtree City Police Department.
The statement was posted shortly after 4 p.m. Wednesday.