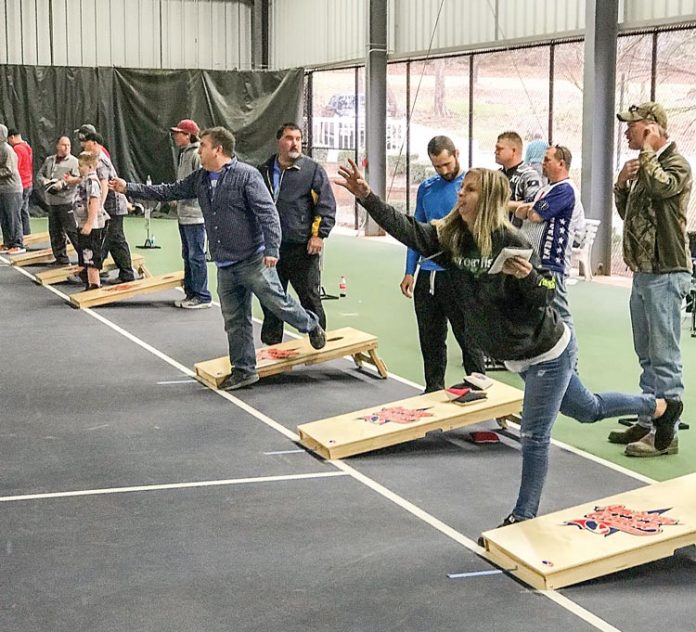 Visitors from 13 states travelled to Peachtree City on March 10 for an American Cornhole Organization major tournament. Now in its third year in the city, nearly 500 ACO participants, friends and family members arrived at the tennis center for the two-day event.
ACO founder and president Frank Geers said the group was glad to be back in Peachtree City. That arrival came with 238 participants and an equal number of family and friends enjoying the tournament on the covered tennis courts. They came from all over the Southeast and from Maryland, Illinois and Missouri, Geers said.
Cornhole in past decades was essentially a game of bean-bag toss, though the small bag was originally filled with corn. It was 12 years ago that Geers decided to take a backyard game and turn it into a sport.
"It's growing in popularity," Geers said, adding that the next step is to take the sport to television.
Geers said there were 238 participants at the tournament with a total of 400-500, including family and friends.
"There are a lot of father and son teams and there's a lot of family involvement," said Geers, noting that players at the tournament ranged from age 11 to 70.
As for coming back to Peachtree City again this year, Geers said, "There's a lot to do here. It's a central location with a welcoming community with plenty of restaurants and hotels."
Geers said the Convention and Visitors Bureau (CVB) worked well with ACO to bring the tournament back again this year.
Commenting on the tournament, CVB Executive Director Jennifer Johnson said, "CVB welcomes the ACO tournament each year and appreciates the hundreds of rooms nights and thousands of dollars the organization brings to Peachtree City businesses and facilities. We are considering extending the contract to continue to relationship with ACO if our facilities are available in 2018 and beyond."