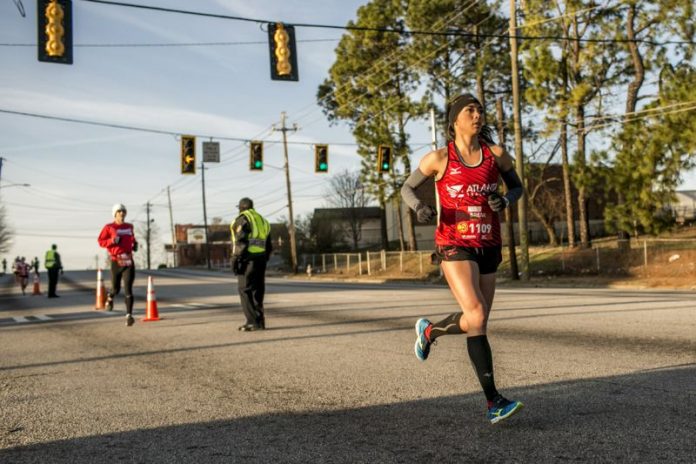 In a huge step toward the goal of qualifying at least one athlete for the 2020 Olympic Games in Tokyo, Atlanta Track Club announced the addition of seven athletes to Atlanta Track Club Elite's Olympic Development Team, coached by 2008 Olympian Amy Begley and Andrew Begley with sponsorship from Mizuno Running USA.
One of these additions is runner Megan Malasarte, a Fayetteville native and a graduate of Our Lady of Mercy Catholic High School. She holds the University of Georgia 800m school record both indoors and out and placed third in the 600m at the 2015 USATF Indoor Track and Field Championships.
The 24-year-old returns home to Atlanta after two years of training and racing in Seattle. Earlier this month she qualified for the 2017 USATF Indoor Track and Field Championships and will compete in the 600m or 1000m.
Headlining the list is long distance specialist Maegan Krifchin, 28, who placed seventh at the U.S. Olympic Marathon Trials in February and holds a personal best of 1:09:51 in the half marathon (Rock and Roll Philadelphia, 2015) – a time that was the third fastest half marathon run by an American woman in all of 2015. Krifchin has recently located to Atlanta from Washington D.C. Under the Begleys, the Long Island native will focus on a fall marathon, her first since the Trials.
"Wherever you go, you can find a running community. With Atlanta Track Club, it IS the running community," said Krifchin. "I'm looking forward to being part of a group with different talents to help me develop as a runner."
Twin brothers Jim and Joe Rosa, 23, will begin their post-collegiate careers in Atlanta following a successful five years at Stanford University, where each earned All-American honors three times. Between them, they have a combined four top-10 finishes at NCAA Track & Field and Cross Country Championships despite being slowed by injuries. The Newark Star-Ledger named Joe the state's seventh best high school track and field athlete of the century. Jim ranked 14th. Like fellow New Jersey native Rich Kenah, Atlanta Track Club's executive director and 2000 Olympian, both hope that Atlanta factors into their journey to the Olympic Games.
"I think Atlanta Track Club is unique in that you can draw inspiration from our elite team all the way to those who have trained tirelessly just to be able to complete their first 5K," said Joe Rosa of his membership in the nation's second largest running organization.
Patrick Peterson, 24, has also already qualified for the 2017 USATF Indoor Track and Field Championships in the 800m. The former Iowa State Cyclone most recently trained with the Big Bear Track Club in California. The New York native has a personal best of 1:48.10.
Two steeplechase specialists, Rob Mullett and Carmen Graves, join the team as well.
Mullet, 29, comes to Atlanta as he prepares to chase his second consecutive Olympic team. He represented Great Britain in the steeplechase at the 2016 Olympic Games in Rio after setting a personal steeplechase best of 8:22.42 earlier in 2016.
Mullett, who raced collegiately for Butler University in Indiana, set a personal best in his first race with Atlanta Track Club, running 7:54.48 for 3000m at the New Balance Indoor Grand Prix in Boston earlier this month.
Graves, 26, competed at the U.S. Olympic Track and Field Trials in 2016 and placed seventh in the 3,000m at the 2016 USATF Indoor National Championships. The Virginia native was a five-time All-American at Division III Roanoke College.
"Atlanta Track Club is excited and proud to continue Atlanta's Olympic legacy," said Amy Begley. "We want Atlanta to be 'Running City USA.' Being home to one of the country's best Olympic-level track and field programs is one of the ways we earn that title."
Entering just its second year of existence, Atlanta Track Club's professional elite team currently has more than two dozen post-collegiate athletes on its roster.
Atlanta Track Club Elite athletes train together and represent the Club at local, regional and national races as well as in the community. In addition to training and racing,
Atlanta Track Club Elite team members teach, engage with and help support the Club's more than 27,000 members. To learn more about Atlanta Track Club Elite, visit atlantatrackclub.org.