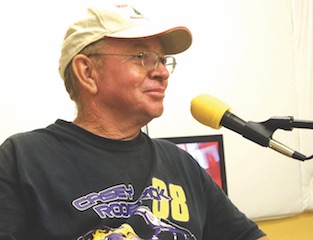 Back when I traveled the NASCAR circuit on a regular basis, people would sometimes ask about my racing background.
I'd tell them that I started out helping a guy named Don Patrick, who had a car driven by Tony Allison.
Then one night after a nasty crash at West Atlanta Raceway, Don and Tony were done with racing for the most part. From there I started going to the races with Ricky Williams. And I'd tell them that it has been pretty much downhill from there, even though I wound up spending weekends with some of the most famous racers of all.
I also remember some Saturday afternoons when I would go to West Atlanta, later Seven Flags Speedway, early in the afternoon and hitch a ride with Stan Massey as he went for water to wet the track.
So with that being said, I don't think I have to tell y'all how happy I was last Wednesday night to learn that both Ricky and Stan had been elected to the Georgia Racing Hall of Fame. They join an exclusive group that includes Sam Sommers of Sylvania, who I watched win a race at Lakewood Speedway and win a pole for a Cup race at Atlanta Motor Speedway.
The late Jimmy Thomas, who I knew from his days of running East Alabama Motor Speedway, also was elected along with drag racing icon Dick Brannon, who was instrumental in the development of some of Ford's high-performance equipment including the 427-cubic-inch racing engine.
I suppose there is an era in anyone's career that is more special than others, but to me, the late 1970s and early 1980s were some of the best times of my life.
Ricky and Terri Williams and I rode to many a race in an old ramp truck that had so much play in the steering that it took about as much skill to drive it as it did the race car.
He won lots of races in that time, including a string at Senoia that led to a bounty that kept increasing every week until the Limited drivers were racing for about as much money as the Late Models. Larry Raines from Cumming finally ended Ricky's streak.
I still remember a lot of the details of what I consider Stan's greatest triumph, at Dixie Speedway in the 1981 Dixie Nationals sanctioned by the National Dirt Racing Association.
Massey prevailed to win a then-record $17,000. And to prove it was no fluke as he backed it up with a second win in the NDRA race at Dixie.
Ricky, obviously, is still racing at Senoia. Stan rarely comes. He told me the other day that every time he goes to the races, he starts thinking he'd like to get himself back in shape and get back in a race car, then comes to his senses and realizes that's not a practical plan.
My hope going forward is that both of them attend lots of races, and begin to better realize how important a part they played in the sport for so many years.
Congratulations to all five of the inductees. They've certainly earned it.
[Rick Minter, a lifelong resident of Fayette County, has been reporting on automobile races since 1976. He also owns Minter's Farm and co-hosts the annual Inman Farm Heritage Days.]