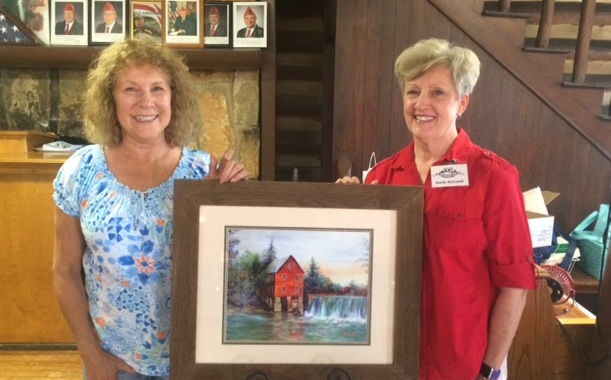 At a recent art show the Fayette Society of Fine Art (FSOFA) had a raffle of a painting to benefit the Friends of the Library. The piece of art was a framed and matted print of a painting of Starr's Mill that was donated by local artist Sandy Holcomb, pictured above with Ina Jones.
FSOFA is a nonprofit organization that likes to give back to the community. Each year the club makes some kind of donation to a local school or organization. This year the Friends of the Library was the recipient. The art show was located at the Log Cabin in Fayetteville. At the close of the show, a drawing of tickets revealed the winner of the painting as Ina Jones. Ina is from Fayetteville, and she is also a member of the FSOFA.
The Fayette Society of Fine Art meets the second Monday of each month at 7 p.m. at Heritage Bank on Jeff Davis Drive in Fayetteville. There is usually a brief business meeting and a painting demonstration. The members of the club are a friendly group that paints in various mediums. The artists represent various skill levels from beginner to professional. All artists are invited to attend regardless of painting skills.