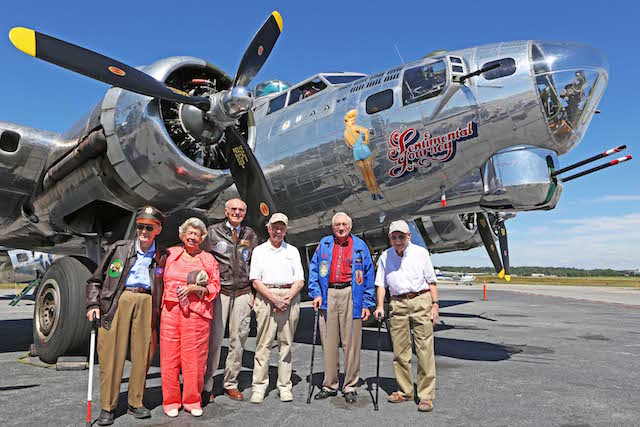 Georgia veterans of The Eighth Air Force will be at the Commemorative Air Force (CAF) Dixie Wing Saturday, June 18, at 11 a.m. to tell stories and answer questions about their role in disrupting the German war effort in World War II. The Eighth Army's heavy bombers and fighters played a key role and contributed substantially to the Allied victory in 1945.
Albert McMahan flew 25 missions as a ball and tail gunner in the early dark days of the Eighth Air Force, when there were no friendly fighter escorts. He flew with the famous 306th Bomber Group (the men the movie "Twelve O'Clock High" was written about). Henry Hughey flew with the 487th Bomber Group (Gentleman from Hell) later in the war and completed 32 missions as a ball turret gunner. Henry was shot down once.
The Eighth Air Force was organized Jan. 28, 1942, in Savannah. The largest force of its kind at the time, the "Mighty Eighth" was composed of 48 bomber groups, 21 fighter groups and three photo reconnaissance groups. The Eighth's headquarters, as part of the U.S. Army Air Forces (USAAF), moved to England In 1942, and remained there until the war's end. The Eighth Air Force mission was the heavy bombardment of strategic and military targets in Nazi-occupied Europe and Germany.
The fee to attend this Dixie Wing event is $10 for the public; admission is free to active military personnel. The Dixie Wing headquarters and museum are at 1200 Echo Ct., Peachtree City, adjoining Atlanta Regional Airport (Falcon Field). The Wing headquarters and museum will open at 9 a.m. For more information, or to schedule rides on Wing aircraft, visit www.dixiewing.org.
The Commemorative Air Force is a nonprofit organization dedicated to flying and restoring World War II aircraft. Based in Dallas, Texas, the organization has more than 13,000 members and operates a fleet of more than 162 World War II aircraft. For more information visit www.commemorativeairforce.org.