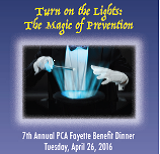 Prevent Child Abuse (PCA) Fayette, a program of FACTOR, is preparing for its seventh annual benefit dinner scheduled for Tuesday, April 26. This year's event, "Turn on the Lights: The Magic of Prevention", will feature Eric Anderson – The Magician with a Message.
Anderson spent much of his childhood in foster care as a result of abuse and a failed adoption. But one of his foster fathers taught him a magic trick when he was young, and it changed his life. Come hear his inspiring story and be dazzled by his amazing act.
The evening will also include dinner, entertainment by the Starr's Mill Jazz Band, plus opportunities to win prizes. Wait staff for the evening will include judges, school principals, attorneys, fire fighters, and more. These community leaders have volunteered as a way to support the children of Fayette County. And new this year, guests can pick their favorite server! By visiting www.fayettefactor.org/events and casting a vote, guests can help one lucky server receive a prize the night of the event.
"We look forward to this community event each year. It's a great way to pull together the wonderful leaders and service providers that work to make Fayette County a safer place for all children," said Becky Smith, Executive Director of FACTOR. "And it's so much fun to watch our community leaders serving up those dinners."
The event will be at Spring Hill Elementary School, 100 Bradford Road in Fayetteville. Doors open at 6:30 p.m. Proceeds from the event will help fund "Darkness to Light – Stewards of Children" child abuse prevention training for 1,000 adults in Fayette County.
Guests can purchase individual or couples tickets, or sponsor 4- or 8-seat tables. All table sponsors will be eligible for the Getaway Giveaway drawing for a 2-night stay in executive suite accommodations at the Ritz-Carlton, Buckhead. Registration and more information can be found online at www.fayettefactor.org/events. For more details, call Becky Smith at 404-291-1602.
The mission of FACTOR is to coordinate resources by bringing all areas of the community together to build a safe, healthy, and drug-free Fayette County through education, networking, and advocacy. Prevent Child Abuse (PCA) Fayette is a member of Prevent Child Abuse (PCA) Georgia, a statewide non-profit established in 1984. The organization focuses exclusively on the prevention of child abuse and neglect in our state. FACTOR is proud to be a Charter Council of PCA Georgia, serving our community since 2008. As a member of this network, PCA Fayette provides information and assistance to the community in an effort to create greater safety for all children. To learn more, visit www.fayettefactor.org.