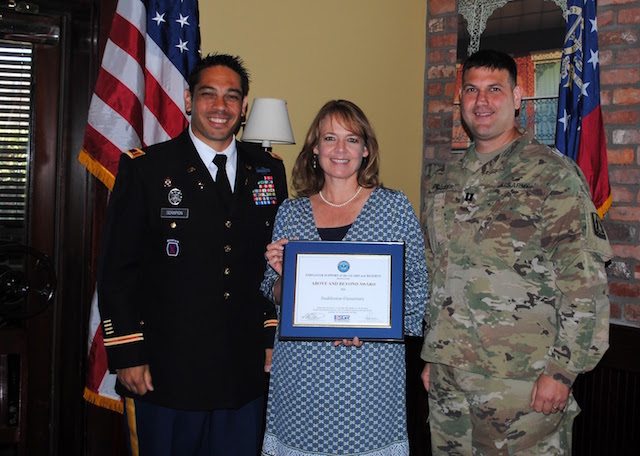 Huddleston Elementary School Principal Heidi Pfannenstiel was recently awarded the Above and Beyond award from the Department of Defense for her support of the National Guard.
Fayette County teacher and National Guardsman Guy Serapion nominated her for the award for the support she gave to him and his family during his service. In his nomination he wrote:
"I have worked for Ms. Pfannenstiel for several years, all the while being an active member of the Georgia Army National Guard. I have deployed twice and left several times for different training missions. Each and every time she has supported my service and done all that she could to make my transitions in and out go as smoothly as possible. She has helped to ensure that my family and I were taken care of in the HR department and that a suitable replacement took over my classroom while I was away. She hosts a Veterans Day Ceremony and has three three Veterans on her staff. She supports the troops and is a true patriot helping to build awareness and patriotism in the youth that she affects."
Kevin Wince, State Vice Chair of Employer Support of the Guard and Reserve who presented her with the award, stated that "there are too many National Guard and Reserve soldiers who come back to unwelcoming work environments after a deployment, so it is nice to recognize someone who goes Above and Beyond to help a service member. This award is prestigious and there are only five of these awards presented annually."
The Above and Beyond Award is presented by ESGR State Committees to recognize employers at the local level who have gone above and beyond the legal requirements of the Uniformed Services Employment and Reemployment Rights Act (USERRA) by providing their Guard and Reserve employees additional, non-mandated benefits such as differential or full pay to offset lost wages, extended health benefits, and other similar benefits. The award is given in limited numbers by state committees to employers who have had at least one of their supervisors/managers recognized with a Patriot Award, and who have signed or agree to sign a statement of support (SoS). State committees are authorized maximum discretion in considering an Above and Beyond award (or other) for Patriot Award nominations of smaller firms, those with no individual supervisors specified, and other similar situations.
Pictured are Pfannenstiel, Serapion, and Capt. Vincent Cooper representing the Department of Defense.