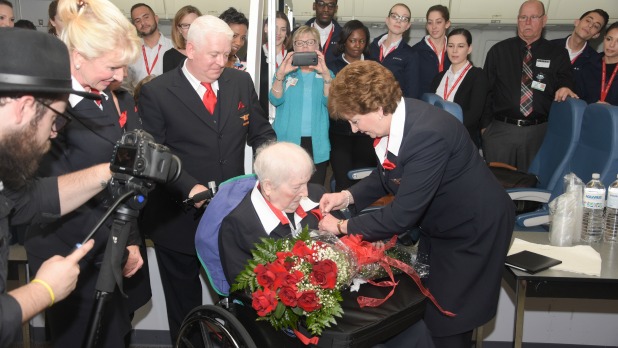 Clem Ferguson, a 96-year-old resident at Christian City, joined new hires at Delta Air Lines' In-Flight Training Center last week to fulfill her lifelong dream of becoming a flight attendant.
She was selected for the honor through a Pruitt Health "Committed to Caring" initiative, which helps fulfill the dream of a senior resident at Christian City through Second Wind Dreams. Ferguson resides in the Nursing and Rehabilitation Center at Christian City, located nine miles south of Hartsfield-Jackson Atlanta International Airport.
"Clem's spirit of optimism and liveliness has helped her to rise above her physical challenges," said Steven Sheets, administrator of the Nursing & Rehabilitation Center and member of the "Committed to Caring" committee. "She has shown her caregivers, friends and family that growing older does not diminish a dream in someone's heart, even after 80 years."
Born in 1919, Ferguson grew up outside Athens. As a teenager, she wanted to become a flight attendant, a career she considered "glamorous."
After more than eight decades of caring for others, Ferguson came to Christian City Nursing & Rehabilitation Center 10 years ago after a fall that left her a paraplegic and unable to walk. However, despite the many challenges she faced throughout her life, she did not lose sight of her dream.
Thanks to Delta Air Lines, Ferguson's lifelong dream was fulfilled at the In-Flight Service Training Center where she participated in an abbreviated training experience along with newly hired flight attendants.
"At 96 years young, Ms. Clem added her own touch of glamour to the beverage service, and we especially enjoyed her graciousness and humor," said Lisa Cryder, a technical facilitator for Delta's In-Flight Service department. "She exemplified 'Smiles in the Aisles' during her in-flight training."
Indeed, Ferguson was "flying high" as she trained alongside the new hires. Afterward,she was awarded an Honorary Flight Attendant certificate and received her very own "wings." Clearly elated by the experience, she said, "I never thought my dream would materialize. I had a wonderful day!"
Delta and its employees have been longstanding supporters of Christian City for decades. From providing employee volunteer service across the campus to hosting Christian City's 50th anniversary celebration in the Flight Museum last year, Delta has shown once again its faithful dedication to giving back to the community by making Ferguson's dream come true.
In fact, all involved seemed to have benefited from the Second Wind Dreams experience. Cryder commented on the contagious spirit, energy and warmth displayed by Ferguson, which made a positive impression on the new hires.
According to Cryder, one newly hired flight attendant commented that "he knew he was at the right place and realized how much Delta employees are a family when he saw both new hires and seasoned flight attendants stopping to applaud Ms. Clem as she entered the lobby of the training center to earn her wings."