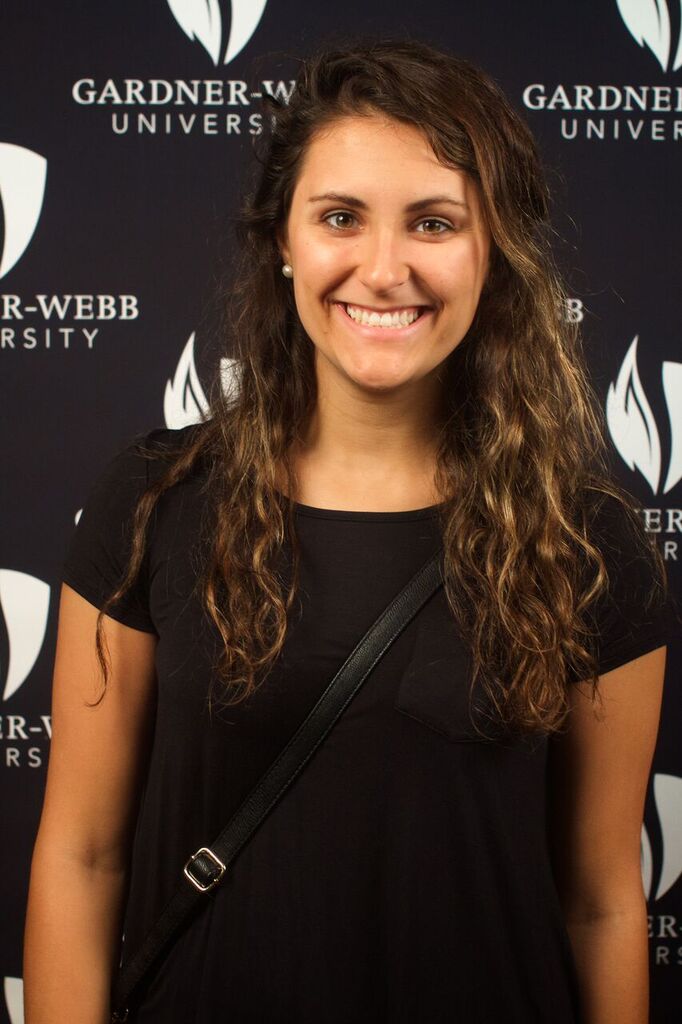 Victoria James of Fayetteville was one of several Gardner-Webb University students who presented their original research from an array of academic disciplines during the largest-ever Life of the Scholar (LOTS) Multidisciplinary Conference on campus March 19. For the first time in its 20-year history, LOTS included graduate students among the nearly 60 overall participants in an event also sponsored by the GWU Chapter of Alpha Chi and the Undergraduate Research Program.
Research topics incorporated both the personal and professional interests and experiences of students, and many presentations displayed studies across multiple liberal arts disciplines such as psychology, languages and sciences.
"These students are representative of all that is to be celebrated at Gardner-Webb," Dr. June Hobbs, director of Undergraduate Research and professor of English, asserted. "What we are trying to do is bring a life of intellect to the Gardner-Webb campus. One of the ways we do that is through the Undergraduate Research Program."
James presented "The Effects of Caffeine on Parkinson's Disease." Her mentor was Professor Stacie Smith.
The LOTS conference highlighted several students whose projects were further supported by Summer Undergraduate Research program funding. Taylor Schwartz, one of those scholars, spent five weeks last summer testing brain responses for evidence of social, performance and pain-related anxiety.
"It was an incredible opportunity to do primary research and develop my skills as an academic," Schwartz exulted. "This experience provided me with tools to design and conduct an experiment and write about my own attempt to understand the brain. This alone is a great contribution to my graduate school applications and enabled me to stand out from others in my field."
Summer Undergraduate Research Scholars also included Elisabeth Moore and Nathan Lile, and Undergraduate Research Grant Winners included Mariana Mellado and Merideth Byl.
Some of the LOTS student presenters developed their research out of projects from their classroom education, including Connor Bos, whose presentation on a study of the links between cola consumption and grade point averages began with an assignment in a business statistics course. Now, Bos is among almost half of the LOTS participants who will share their research at the Alpha Chi 2016 National Convention in Washington, D.C., April 7-9. In addition to his own research, he is a member of a collaborative project team from a diverse group of majors who will present a study of solutions for containing and preventing the spread of the Ebola disease.
"Presenting at LOTS was a great chance to receive additional feedback on my research from our judges," Bos shared. "Now I can further refine my presentation to make it even better for Alpha Chi."
LOTS recognized elite work through undergraduate presentation awards to Jeremiah Hamby, Christian Jessup, Mariana Mellado, Kevin Mills, Elisabeth Moore, Rebekah Rhea, Taylor Schwartz, Mary Toohey and Susan Ward. Karen Taylor was recognized for top graduate research, and the Alfred and Shirley Wampler Caudill Best Presentation prize was awarded to Wendy Harmon.
"Gardner-Webb is a University committed to Christian principles and ideas. We are also a University committed to being the best we can be in the field of academics," summarized Dr. Tom LeGrand, director of the GWU Center for Christian Ethics and Social Responsibility and one of the conference's faculty speakers. "By the different fields studied and presented at this conference, you can see the connection between those principles and academic work and accomplishment."