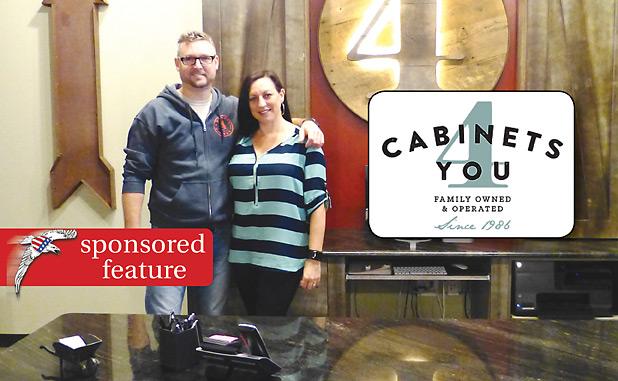 Sponsored Feature
2016 is a big year for Nicole and Terry Bigelow, owners of Cabinets 4 You in Peachtree City. They're celebrating the shop's 30th anniversary and they can't wait to see what projects this special year brings.
"We really love what we do," says Terry. "Nicole really enjoys working with clients and helping them choose the layout, styles, and finishes that fit their lifestyle and tastes."
Choices certainly abound. Cabinets 4 You specializes in custom and semi-custom cabinetry, and, while they offer a range of options to fit most budgets, every option is quality because all cabinets are made of solid wood. They use no MDF, pressboard, or particle board and all cabinets are built right in Peachtree City to ensure Nicole and Terry's high standards are met.
"My parents started this company in 1986," explains Nicole. "They believed in quality and we were proud to continue that legacy when we took over the shop in 2007. Most of our staff has been here upwards of 15 years and they believe in our commitment to quality, too."
The shop's main focus is residential remodels, but they also work on commercial and new construction and renovation. They've designed and built cabinetry for kitchens, baths, offices, laundry rooms, and more and have worked on a variety of commercial projects including restaurants and shops. They offer a wide range of finish and hardware options and absolutely love a challenge.
"Sometimes clients need something completely custom," says Nicole. "Other times, they only need a few custom touches added into the design. For example, you might love everything about a standard line except the range hood. We can create a custom one that works with the style of the cabinets, but fits your ideal."
This commitment to quality and service doesn't stop once the cabinets are built. Cabinets 4 You employs an in-house installation crew as well and Terry visits every installation site.
"We're willing to put in the time and attention the client needs," he explains. "We want every client to be completely happy, not only with the end result, but with each step of the process."
We really do have something for everyone and we build everything right here in our shop, so you can be confident in the quality.
HIGHLIGHTS
Cabinets 4 You is a family-owned and operated cabinet shop celebrating its 30th anniversary in 2016. Specializing in solid wood custom and semi-custom cabinetry for the kitchen, bath, office, and more, the company builds all cabinets in their Peachtree City shop. Owners Nicole and Terry Bigelow stay involved from design through installation. 
• Celebrating 30 years in Peachtree City
• Custom and semi-custom cabinets for the kitchen, bath, office, and more
• Extensive experience in residential remodels
• Full service from design to build to installation
• Cutting-edge diagnostic equipment and precision tools
• High-quality, solid wood options to fit a range of budgets; no particle board, MDF, or press board
• All cabinetry is built in the Peachtree City shop
• Showroom includes cabinet styles, finish displays, hardware, and more
• In-house installation crew lead by owner
Cabinets 4 You is located at 301 Kelly Dr., Suite 2, in Peachtree City. For more information call 770-487-0763 or visit cabinets4youptc.com.