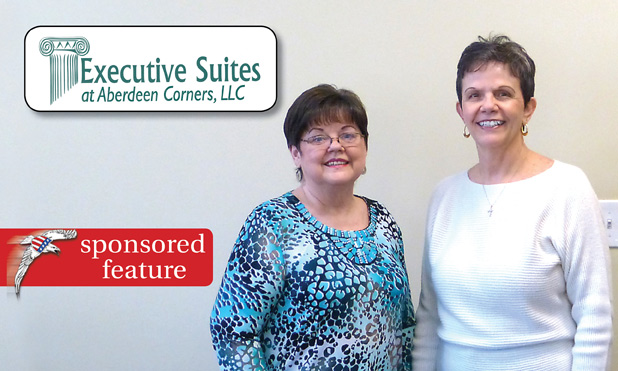 Sponsored Feature
Not every company can afford to purchase its own building. More to the point, not every company needs to. Enter Executive Suites at Aberdeen Corners, a full-service office complex that offers short- and long-term leases on private office suites in a variety of sizes – and at prices that fit every budget.
Ideal for new businesses, small companies, and satellite offices that need a private professional place to work and meet clients, Executive Suites offers tenants 24/7 access, included internet, a host of available business services, and discounts with local hotels and other businesses. It's also the only private suite complex in the area that provides an on-site fitness center and climate-controlled storage units, a major plus for those looking for Atlanta-level amenities.
"Flexible, convenient, responsive, and professional – these are some of the words our clients use to describe us in emails and satisfaction surveys," says general manager Sharron Singletary. "We're very proud of those descriptions and of the high-quality service and great relationships they represent."
In addition to on-site office space, Executive Suites at Aberdeen Corners also offers two popular "virtual office" packages. Both include a business address and eight hours of meeting room space each month.  Additionally, clients can opt for a personal answering service and voicemail. The board room, conference rooms, and day offices are available for hourly and daily rental, which Sharron says is very popular with companies conducting interviews, attorneys taking depositions, and virtual companies that hold monthly or quarterly staff meetings.
But even those who don't need office space can take advantage of Executive Suites' business services, such as notary, witness service, incoming and outgoing fax, scanning, resume prep, desktop publishing, word processing, spreadsheet creation, postage and outgoing mail services.
"It's exciting to know that what we do every day contributes to the economic growth of the community," Sharron says. "Not only do we assist in our clients' growth, we also connect them with other local companies with whom we have relationships, so those businesses grow, too. It's an exciting cycle, and we're proud to be a part of it."
We combine the level of service and amenities a business would expect to find in downtown Atlanta with local connections and relationships.
HIGHLIGHTS:
Executive Suites at Aberdeen Corners, a full-service, 37-suite office complex in Peachtree City, offers short- and long-term leases for small business clients or companies looking for a satellite office on the south side of Atlanta. Virtual office packages, daily and hourly conference room rentals, and walk-in business services are also available.
• Suite amenities include A/V, 24/7 access, on-site fitness center, access to special pricing from local vendors, more
• Short- and long-term leases with reasonable rates
• Virtual office packages include business address, monthly meeting room hours, and optional personal answering service and voice mail
• Walk-in services include notary, fax, document creation, bulk mailing, witness services, scanning, resume prep, more
• Hourly and daily conference room rental available
• Only suite complex in area with fitness center
•  On-site, climate-controlled storage units
Executive Suites is located at 2011 Commerce Drive N. in Peachtree City. For more information, call 678-788-6000, visit aberdeencorners.com or email info@aberdeencorners.com.