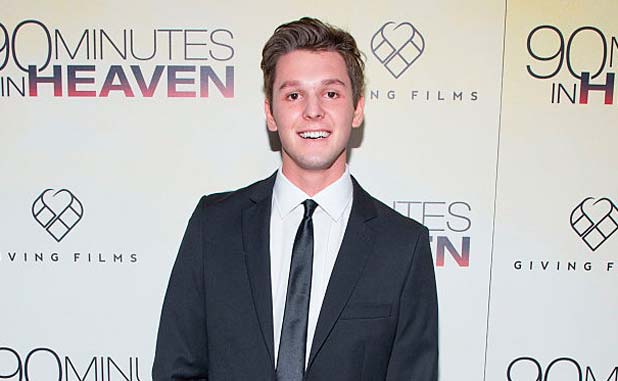 By JOHN THOMPSON
jthompson@TheCitizen.com
A former Starr's Mill soccer playing is living his acting dream in Hollywood.
Tyler Case, who first caught the acting bug when he was 5, is featured in the new film "90 Minutes in Heaven," that opens Friday.
Case came back to Georgia last week for the premier of the film at the Fox Theatre in Atlanta, and the 19-year old is thrilled to be part of such an intriguing film. The film is based on the book of the same name that sold more than seven million copies. According to Wikipedia, the true story is about Don Piper, who was involved in a horrific car crash and pronounced dead at the scene and covered by a tarp. 90 minutes later, he had been brought to the emergency room and returns to life, and claims to have seen Heaven and visited with deceased relatives while there.
"I'm just glad to play a part in such an inspiring film," Case said.
He plays a character, Mark, that suffers a similar accident to Piper. Mark's physical therapy is excruciatingly painful, but Piper enters the picture and tells Mark his story to aid in his mental and physical comeback from the accident.
While not yet 20, Case has acted in a variety of projects from TV shows to short films, commercial and feature films, His first role was at age 5, when he did a print ad for Fischer Price. Next followed a national career for Bounce Fabric Softener, and Case knew what his passion was an what career path he wanted to travel.
Case moved to Hollywood the second semester of his junior year to pursue his dream ful time, but Peachtree City was never far from his mind.
"I learned so many amazing lessons from playing soccer at Starr's Mill and my parents have been nothing but supportive he said.
Case is also proud to be involved with the first film from a new production company called Giving Films. He said 100 percent of the profits from the film go to charity, and ticket buyers can choose one of eight charities that will receive their ticket money.
He plans to remain in Georgia for the next two months here, because of the exploding entertainment opportunities in the state.
"I'm very fortunate that I can be bi-coastal, and do work closer to home," he said.