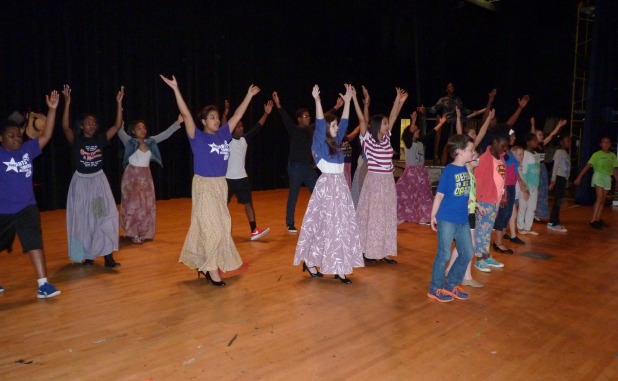 The Sandy Creek High School Fine Arts Department is presenting a stage production of "Cinderella" this month.
The classic fairy tale will be presented Friday, April 24, at 7 p.m. and Saturday, April 25, at 1 p.m. and again at 7 p.m. at the school in Tyrone.
"Cinderella," based on the classic children's fairy tale, is the only Rodgers and Hammerstein musical originally written for television. It was first broadcast in 1957 and starred Julie Andrews as Cinderella. It was remade for television twice, in 1965, starring Leslie Ann Warren, and in 1997, starring Brandy. It was rewritten for Broadway and ran from March 2013 to January 2015.
The SCHS production features Ellie Klarl as Cinderella, Sydney Harris as the Fairy Godmother, Shunrodney Rosser as the Prince, Tyler Spezzano as the King, Sasha Alleyne as the Queen, Lauren Nash as the Stepmother, Samone Daily and Alexus Alexander as the Stepsisters, and Dylan Chisolm as Lionel. The cast also includes several students from Robert Burch Elementary School and Flat Rock Middle School. Members of the SCHS band and orchestra will perform the music live. The production is directed by Alison Chambers and choreographed by Jonsie Pollock, with SCHS Choral Director Craig Robertson directing the music.
Tickets are $8 for children and students and $12 for adults. Tickets may be purchased in advance at the SCHS front office Wednesday, April 22, through Friday, April 24.