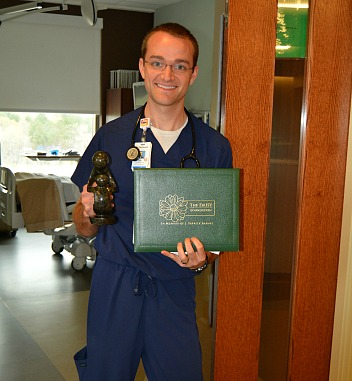 During a surprise ceremony on March 27, David Swanagan, RN, a nurse in the intensive care unit of Piedmont Newnan Hospital, learned that he is the winner of the prestigious DAISY Award for Extraordinary Nurses.
The DAISY Award is part of a national program honoring nurses for their clinical skills and compassionate care for patients and their families. The honor came after the hospital received a letter from former patient Earl Eberlin.
He wrote "I was shocked from five to seven times to get my heart beating … I also remember you coming to my left ear with words of encouragement and telling me you would help me. I do not remember much after that but was told that you got my heart beating again."
Eberlin said his wife of 58 years, two sons, daughter, eight grandchildren and two great grandchildren wanted to send their heartfelt thanks to Swanagan.
"I don't know how to come up with the proper words to express to you my thanks for saving my life but want you to know how grateful both my family members and I are," he wrote. "God bless you and know how much you are needed to help others."
Eberlin's letter was one of many the hospital has received about Swanagan from former patients and family members. Swanagan has been nominated for the DAISY Award several times in the past.
As the honoree, he received a "Healers Touch" sculpture hand-carved by a member of the Shona tribe in Zimbabwe, a DAISY Award pin and a personalized "Extraordinary Nurse" certificate.
DAISY is an acronym for Diseases Attacking the Immune System. The DAISY Award is part of the DAISY Foundation's program to recognize the super-human efforts nurses perform every day. The not-for-profit DAISY Foundation is based in Glen Ellen, Calif., and was established by family members in memory of J. Patrick Barnes. Patrick died at the age of 33 in late 1999 from complications of Idiopathic Thrombocytopenic Purpura (ITP), a little-known but not uncommon auto-immune disease. The care Patrick and his family received from nurses while he was ill inspired this unique means of thanking nurses for making a profound difference in the lives of their patients and patient families.
To nominate a nurse for the DAISY Award at Piedmont Newnan Hospital, visit piedmontnewnan.org.