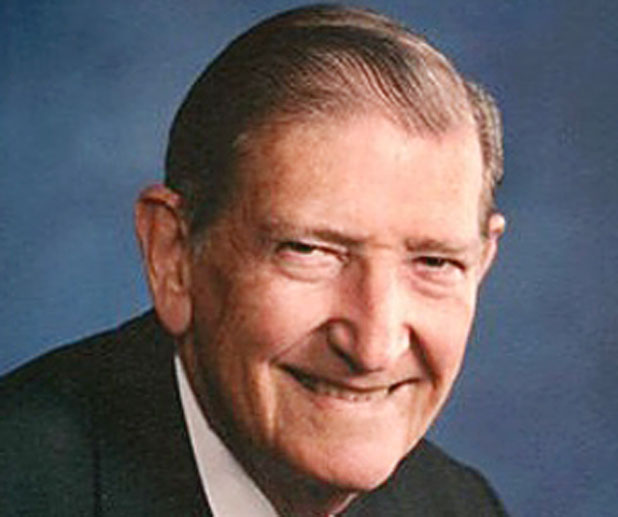 Norman W. "Zeke" Paschall, 95, died at home on March 3 with his family at his side. Paschall brought his company to Peachtree City in 1962, just a few years after the city was founded.
"He was a fine man," Peachtree City founder and first mayor Joel Cowan said Monday.
"Getting industry was all I could do when (the city) was getting started," Cowan said.
And that is where Paschall entered the picture. Cowan said Paschall at the time had a plant in East Point on a railroad line.
Paschall and Cowan met and a friendship formed. Far different from today, it was a time when almost no one was pulling up stakes and moving to Georgia's newest city.
"(The Paschall family) moved to Newnan to be near here, then later they moved back to Atlanta," Cowan said. "From 1962 until now he would drive down here and I'd drive to Atlanta to my office. We'd meet going in opposite directions."
Cowan said there were occasions when he and Paschall would literally meet on the side of the road.
Reflecting on the early days, Cowan said Paschall hired a "country cook" to prepare meals for staff. Unlike today, it was a time when restaurants did not dot the Peachtree City landscape.
Cowan also spoke of Paschall's association with the Peachtree Road United Methodist Church, having chaired every committee and helped raise millions of dollars during fundraising efforts.
A story in The Citizen in November 2012 marked the company's 50th year in Peachtree City and the founder's birthday.
"Paschall still comes to work every day and joked that his employees only think he's in charge of the operation," the story says. "He also humorously recalled several visits in the early days from Peachtree City founder Joel Cowan, who was concerned routinely about the cloud of dust emanating from the company's kaolin clay operations.
"The cloud of dust made it easy to find Norman W. Paschall Inc. but the dust problem went away when the kaolin operation did, Mr. Paschall said."
The company is located at the end of Paschall Road on the northern tip of the industrial park, its first and now most senior tenant.
Paschall was born in Kingstree, S.C., in 1919 and spent his childhood in Greensboro, N.C.
Paschall began a career in the textile by-products business in 1935, with Railway Supply and Manufacturing Inc., Charlotte, N.C.
While as a flight instructor stationed in the Army Air Corps in 1941 in Lincoln, Nebraska, where he trained B-17 pilots, "Pappy" Paschall met Barbara Van Gundy. Married for 67 years, Barbara passed away in 2013.
It was in Lincoln that Paschall married the "love of his life." Together in 1946 they started their business, the Norman W. Paschall Co., Inc. in Atlanta. The couple relocated the business to Peachtree City in 1962. Today it is the oldest continuous operating industry in Peachtree City, as well as the oldest facility, according to Paschall in a 2009 video interview on the company's website (www.paschall.com).
"You might say our entire business is based primarily on recycling [cotton and textiles] in one form or another," Paschall said on the video.
The materials to be recycled come from textile spinning mills, cotton gins, apparel and carpet manufacturers.
The end products include coarse yarns used in the mop, upholstery, drapery and tufting sectors of the textiles industry; materials for spinning, casket pillows and mattresses, non-woven products, medical products and paper products; materials for yarn, for paper making, and for bleached cotton products; and for bonded fiber pads in the bedding, furniture and automotive industries.
NWP Company, which has 86 employees, conducts ongoing operations in Peachtree City and three other locations, according to the company website.
The local buildings include one built in 1962 that has approximately 75,000 square feet of manufacturing and storage space and 1,800 square feet of office space; the second building completed in 1981 has approximately 72,500 square feet of processing and storage area. These two buildings are situated on two adjacent parcels of land totaling 38.55 acres in Peachtree City.
The third building, located in Valley, Alabama, was constructed in 1942, has approximately 173,500 square feet of manufacturing and storage space and 1,500 square feet of office space and is leased with the equipment and 128 acres of land.
Another building of approximately 46,850 square feet of manufacturing and storage space is leased with equipment for seasonal operations in Kennett, Missouri. A warehouse of approximately 400,000 square feet is leased in Alabama to handle seasonal production.