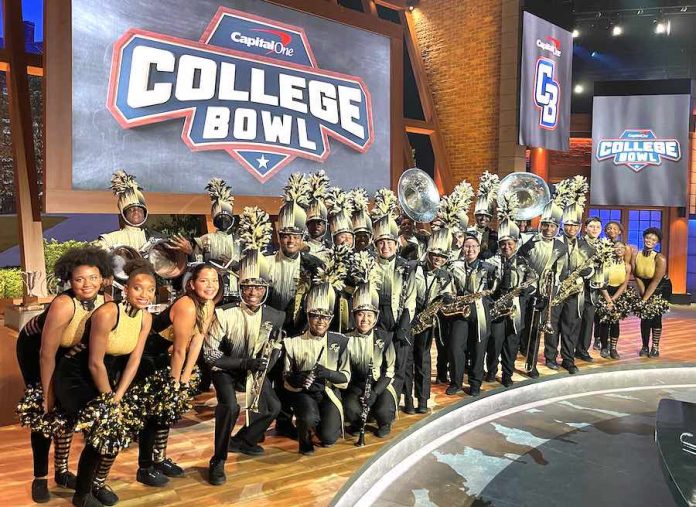 The Marching Tiger Band can add another television performance to their resume. The Fayette County High band appeared on the season 2 finale of the Capital One College Bowl game show on NBC.
Hosted by football legend Peyton Manning and his brother Cooper, College Bowl pits students from rival colleges against each other in an academic challenge covering a wide range of topics.
The Marching Tiger Band appeared throughout their episode, including leading into and coming out of every commercial break. Cooper chatted with the band members on air, and Peyton also gave them a shout out.
The Tigers are no strangers to high-stakes performances, but filming for a studio television show is a totally different experience.
"Preparing for the performance was quite similar, however, during a regular marching band performance, you only get one chance to get it right. For a recorded performance, you have the opportunity to do multiple takes of the same thing, which can lead to a stamina issue if you aren't prepared," said FCHS Director of Bands Dr. Myra Rhoden. "It's a totally different atmosphere, and watching the professionals at work was an experience to be remembered."
The Tigers are becoming old pros at appearing on television, having performed on national broadcasts of the Tournament of Roses Parade (2007), the Hollywood Christmas Parade (2016), and the The Hollywood Christmas Parade's Greatest Moments (2020), which used footage of a previous appearance when the parade was cancelled due to COVID-19.
"It was extremely cool to watch the band on a national tv show, although it was not the first time the Marching Tigers have been on national tv," said Dr. Rhoden. "With so many television and film studios now in the Atlanta area, we'd love to be selected to do it again!"
Participating band members were James Bartnicki, Joseph Bassia, Jayden Burns, Kevin Gallegos Cerros, Sean Cush, Yoliset Flores, McKenzie Floyd, Nevaeh Franklin, Christiaan Hairston, Uyen Thao Huyhn, Anthony Johnson, Ebiere Keniye, Morgan McDaniel, Caleb-Wesley Nana, Donyae Peacock, Daylon Peterson, Jada Quarles, Naomi Rodriquez, Corey Richards-Persad, Christopher Rogers, Emily Sepulveda, Brelin Strickllin, Rachael Tinsley, Mikayla Vallot, Isabella Vejarano, Joshua White, and Samantha Williams.
In addition to Dr. Rhoden, assistant director Brandon Waugh and staff including Lacarey Hunley, Shannon Lemon, Will Cole, LaToya Brooks, Madison Gallien, and Jacques Bell played an instrumental role in getting the band ready to perform.
The Marching Tiger Band completed a bookend of the season, as it was Starr's Mill High's players featured on the season premiere of season 2. Filming took place over the summer at Trilith Studios, and Fayette's episode aired on October 28. All episodes of Capital One College Bowl are available online at nbc.com and through other streaming services. — Article and photo provided by the Fayette County School System.