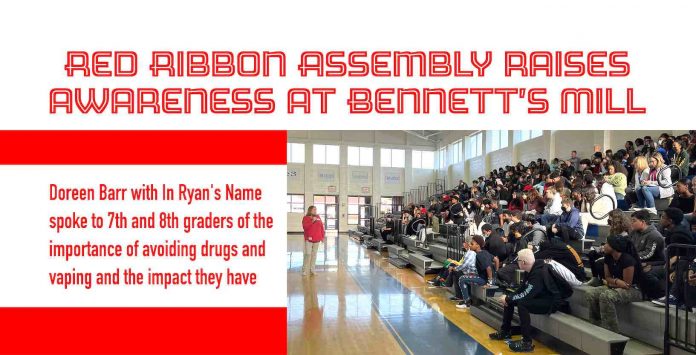 Bennett's Mill Middle is dedicated to keeping their students healthy and happy. As part of Red Ribbon Week, the school brought in a guest to talk about the dangers of drugs and vaping.
The guest speaker Doreen Barr with In Ryan's Name spoke to 7th and 8th graders on the importance of avoiding drugs and the impact it can have on families.
In Ryan's Name, Inc. is a nonprofit foundation started in memory and honor of Ryan Barr, an honor graduate of Starr's Mill High in 2004. Ryan passed away May 21, 2015, from a fentanyl-laced drug.
Ryan's mother, Doreen, started In Ryan's Name, Inc. in 2019 with a goal to educate youth, parents, grandparents, school administrators, teachers, coaches, and business owners about the dangers of drugs.
For more information, visit inryansnameinc.com. — Article provided by the Fayette County School System.