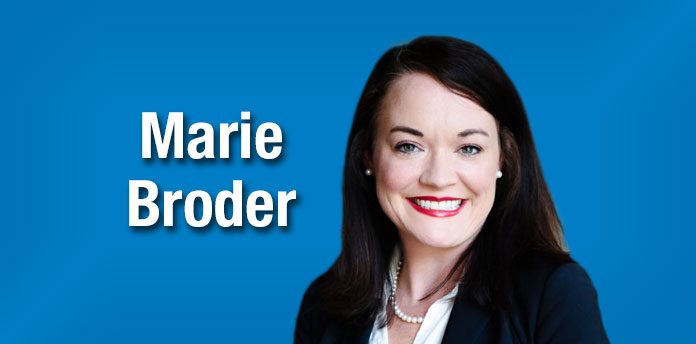 ---
By District Attorney Marie Broder
---
To say that I am proud of my employees for their work during the past few weeks would be the understatement of the year.
My offices in Fayette and Spalding County were absolute warriors in trial. In Fayette County, a jury found Jermaine Harmon guilty of Felony Murder after the Defendant shot Joshua Kellum. Warren Sellers and Dan Hiatt tried the case for the State and did an excellent job.
The victim was by all accounts a great man and devoted father who found himself in a domestic dispute that turned deadly. Mr. Kellum came to Georgia to deal with a custody issue and accidentally left a bag containing important documents with his daughter.
After multiple efforts to retrieve the bag from his daughter's mother and her now husband in a respectful and reasonable way, he was shot dead by Harmon on the porch of the house where his daughter was staying. It was a senseless and unnecessary murder where the defendant claimed self-defense but a jury rejected that defense completely.
This case was heart-breaking because a man died after a foolish dispute over a bag. The man who killed him was probably not "evil," in the sense that he walked the earth desiring to harm others, but instead was drawn to homicide by the short-sighted grievances of a child custody matter. Judge W. Fletcher Sams appeared to recognize this same issue during remarks he made as he sentenced the Defendant to Life in Prison.
I have seen too many people killed because of warped matters of the heart. If you are angry about a domestic dispute, I beg you to pause before resorting to violence. Murder is not the answer and you will be prosecuted to the fullest extent of the law.
Meanwhile, in Spalding County, a jury found Jonathan Smith guilty of Aggravated Assault arising from a domestic violence dispute. David Studdard and Adelle Petersen tried the case for the State. Domestic violence is fueled by a desire for control and power over another. The abuser controls every aspect of the victim's life and uses violence to achieve that power. In his closing, David Studdard told the jurors to stand up for the victim and stop the abuse. That's just what they did. Judge Benjamin Coker sentenced the Defendant to 20 years to serve.
This same week, another case that was tried in Spalding County forced me to reckon with the bounds of evil that we as prosecutors must face.
A 12-year-old girl made an outcry to an aunt and her friend because her own biological father had molested her for years. The nature of the defendant's depraved acts forced upon his own daughter are too horrible to publish. Twelve jurors from Spalding County heard them all in a courtroom and promptly found the defendant, Brian Brinkerhoff, guilty of multiple counts of Aggravated Child Molestation.
These cases are some of the most difficult to try because most people do not want to believe that a father is capable of leveraging a child's natural love into wretched depravity. What furthers the heartbreak in these cases is that the victims are often devastated that their abuser will spend the life in jail. Children will always love their parents, no matter how terribly they are treated. But with time they can see the reality of what happened and learn to heal.
Kate Lenhard and Holly MacDonald stood up for a vulnerable victim this week and Judge Scott Ballard sentenced the Defendant to Life in Prison followed by 30 years to serve.
Justice was duly served this week. But it was a hard fight. We'll continue the fight next week. Until next time, be kind to one another and enjoy the last few weeks of summer.
[Marie Broder has served as the Griffin Judicial Circuit district attorney since 2020. She resides in Griffin.]