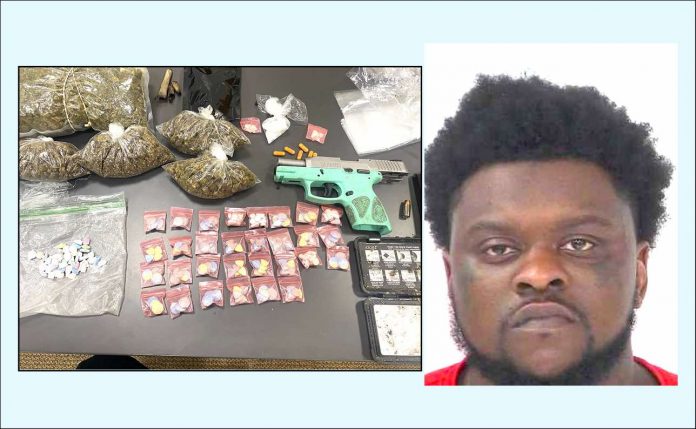 Fleeing Peachtree City police on April 16, driving recklessly and having a vehicle with a large number of drugs will come with a steep price to pay while facing 64 drug and traffic violations.
Gerontay D. Adams, 29, of Stone Mountain, was charged with 64 drug and traffic violations, according to Fayette County Jail records.
Peachtree City Police Department spokesman Chris Hyatt said officers at approximately 4:32 p.m. stopped a black Chevrolet Impala on Ga. Highway 74, suspected to contain a person with outstanding arrest warrants.
"After initially stopping, the driver fled and drove erratically and dangerously while doing so. Officers suspected the driver was also intoxicated and pursued the vehicle to try and intervene. The suspect drove onto the wrong side of the highway and through a median – where an officer ended the pursuit by ramming the suspect's vehicle and disabling it," said Hyatt. "The driver fled on foot but was captured a short distance away."
Along with traffic charges, Hyatt said the drug charges included possession with intent to distribute cocaine, trafficking MDMA, possession with intent to distribute marijuana and possession of a firearm during commission of a felony.
The complete list of offenses for which Adams was charged include:
• following too close, two charges
• crossing median/divided highway, five charges
• passing on hill/curve
• aggressive driving
• driving through safety zone, two charges
• DUI alcohol
• driving on wrong side of road, two charges
• signal requirements, four charges
• ran red light, three charges
• reckless driving, three charges
• fleeing or attempting to elude, two charges
• speeding, two charges
• failure to maintain lane, 14 charges
• obscured/missing license plate
• excessive window tint
• drug-related objects
• temporary license
• open container
• signals required, four charges
• improper use/turn signals
• felony drug possession, eight charges
• drug trafficking
• possession of weapon/convicted felon
• possession of firearm/knife during commission of a crime
• misdemeanor marijuana
041822GerontayAdams.jpg
Gerontay D. Adams. Photo/Fayette County Jail.
278745325_299644302354507_1278653694689207848_n.jpg
Pictured are the drugs and the weapon seized by Peachtree City Police after arresting Gerontay Adams on April 16. Photo/Peachtree City Police Department.