It is one thing to set up a printing business. It's quite another to set-up shop in a hotel room for an identity fraud operation. It's yet another thing to face charges after police discover the operation when you don't return to your room.
As reported last month by The Citizen, 40-year-old Stephanie Howard, of Molena, was charged March 24 with 11 counts of felony financial identity fraud and a charge of manufacture/sale of false identity, according to Fayette County Jail records.
Subsequently, charged with the same offenses, along with possessing a firearm, an AR-15, during the commission of a crime, was 40-year-old Adam Pennington, of Jonesboro, who had recently been living out of hotels, said Peachtree City Police Department Lt. Brad Williams.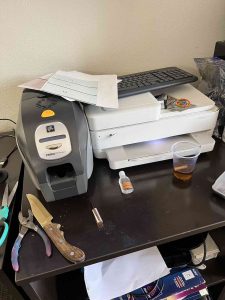 Department spokesman Chris Hyatt last month said Howard and a co-conspirator had established their operation at the Sleep Inn Near the Avenue on City Circle, adding that there were multiple victims as a result of the identity fraud operation.
Williams on April 19 added that Howard and Pennington had been arrested in Coweta County following a suspicious person call, with the investigation revealing various financial documents in their possession. Pennington was also found to be wanted in other jurisdictions.
Peachtree City police in March became involved when Sleep Inn staff reported that the two had not returned to their hotel room for five days, said Williams.
Hyatt in March said officers checked the room and located counterfeiting evidence, including printing equipment to produce checks.
Also found in the room was a gold-painted .22 caliber AR-15, said Williams.
Williams later added that the documents containing information from individuals and companies, secured by means such as dumpster diving and mail theft, could be used to print fake IDs and checks.
Williams stressed the need for both individuals and companies to safeguard sensitive information, taking precautions such as shredding those documents, signing-up for Informed Delivery with the post office and being wary of providing anyone with identity information.