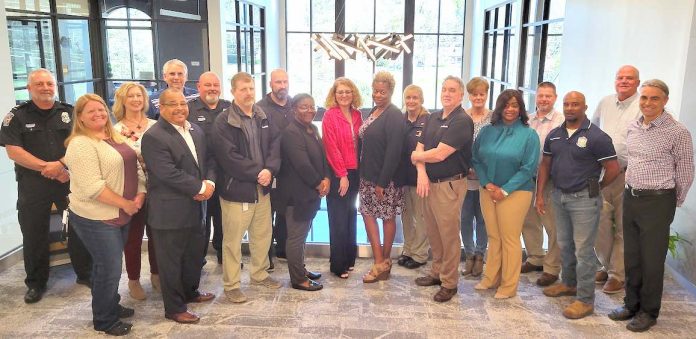 Eighteen leaders on staff with the city of Fayetteville are being congratulated and celebrated for completing a year-long leadership development program facilitated by Atlanta-based consulting firm LeaderGov.
Fayetteville's participants were placed into two groups, one that collaborated with the staff of Indianola, Mississippi, and one that collaborated with Muskegon, Michigan.
The participants were engaged in twelve workshops focused on growing their understanding of themselves as leaders, achieving strategic goals, and leading and developing their own City departments.
During the program, participants learned and grew in areas such as building trust, dealing with conflict, understanding personality styles, growing as servant leaders, setting high-impact goals, executing goals, leading change, being accountable, and motivating and supporting their teams.
"The city of Fayetteville is committed to the ongoing development of individuals and teams," said Fayetteville City Manager Ray Gibson. "The leadership, training, and skills received will help our staff implement the city's strategic goals in a more effective and collaborative manner."
Fayetteville staff participating in the Fayetteville/Indianola cohort were City Manager Ray Gibson, Assistant City Manager Alan Jones, City Clerk Anne Barksdale, Police Chief Scott Gray, Finance Director Mike Bush, Human Resources Director Nella Cooper, Communications Director Ann Marie Burdett, Public Services Director Chris Hindman, Community & Economic Development Director David Rast, and Deputy Finance Director Carleetha Talmadge.
Fayetteville staff participating in the Fayetteville/Muskegon cohort were Deputy City Clerk Valerie Glass, Fire Chief Linda Black, Deputy Police Chief Robert Mask, Economic Development Director Brian Wismer, Public Works Operations Manager Jermaine Taylor, Technology Director Kelvin Joiner, Planning & Zoning Director Denise Brookins, and Senior Accountant Karen Austin.