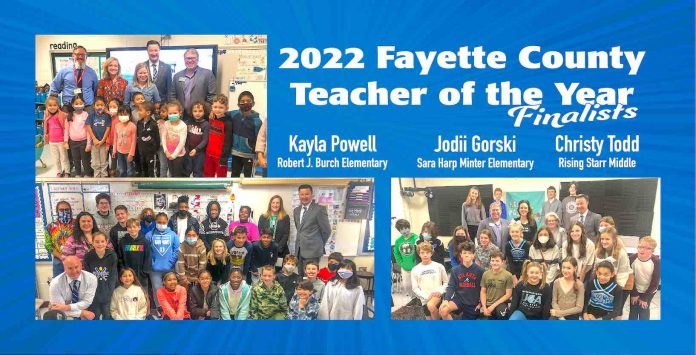 Through a close competition, the number of names in the running for 2022 Fayette County Teacher of the Year have been narrowed down from 25 of the county's best to just three finalists.
The finalists for the 2022 Teacher of the Year honor are Jodii Gorski of Sara Harp Minter Elementary, Kayla Powell of Robert J. Burch Elementary, and Christy Todd of Rising Starr Middle.
Each finalist will be observed in their classrooms and interviewed by the judging panel, which consists of two retired educators and last year's county winner, Emily Hodge of McIntosh. The teacher with the highest combined judges' score will be named the 2022 Fayette County Teacher of the Year.
The winner will be announced at the annual Fayette County Teacher of the Year celebration on April 14.
Jodii Gorski, Sara Harp Minter Elementary
With a classroom motto of "When you know better, you do better," Jodii Gorski strives to do what is best for her students, while creating a culture of hope, safety, and love of learning and community service.
"As an educator, my role in impacting students is so much greater than just the content and standards that I teach," said Gorski. "I must go beyond those parameters and find ways to ensure that education is not just content specific, but life-applicable. I want my students to be lifelong learners and constantly striving to know more, do more, and be better."
Gorski is a veteran teacher of 15 years who currently teaches 5th grade at Sara Harp Minter. She uses a whole child approach to education and works to create a collaborative partnership between herself, her students, and her peers.
"Everyone has a chance to take ownership and feel positively about their educational experience, but none of these things could take place without the most important tenet in my teaching philosophy: Relationships with my students are the most important part of the day," she said. "Creating a safe place, learning about my students, validating them, engaging with them, and laughing with them allows for a successful environment for students to learn strategies, to venture out of comfort zones, to participate, to be engaged, and to become a community of learners and problem solvers."
Gorski believes in laying the building blocks for her students to thrive long after they leave her classroom.
"As a teacher, it is my responsibility to ensure that my students are provided with intellectual, social, and personal growth opportunities. They need chances to become independent thinkers and productive problem solvers in order to be successful in their educational careers and life."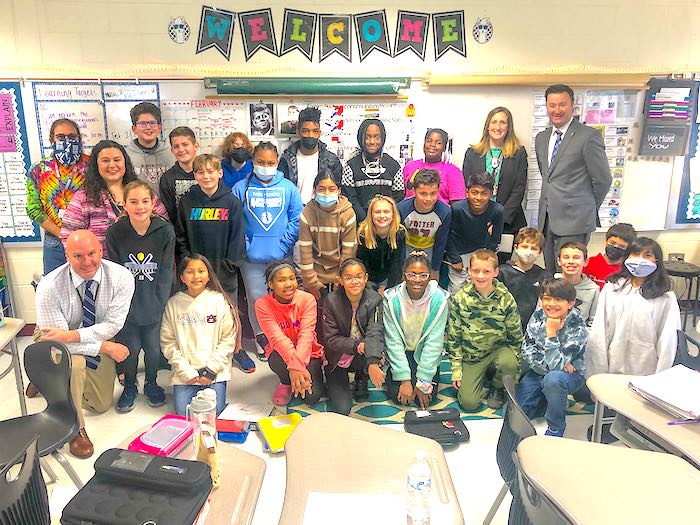 Kayla Powell, Robert J. Burch Elementary
Kayla Powell believes that developing a strong classroom community is the most important factor in creating an effective learning environment.
Powell, a kindergarten teacher at Robert J. Burch Elementary with 10 years of experience, wants students to develop respect and trust for the members of their classroom family so that they are willing to take academic risks.
Powell is a big proponent of outside-the-box teaching, organizing field trips to zoos, aquariums, and farms, along with bringing in professional community members to speak to her students, like firefighters and botanists.
"The most effective way of ensuring education transcends the classroom is to take the students and the learning outside of the classroom," she said. "The experience has the ability to take a topic that might seem dull, such as learning about goods and services, and make it exciting and fresh once they have seen the principle in action in a unique way. These experiences help answer the question 'Why are we learning this?' In a powerful way."
She believes in helping students learn more about themselves and each other, putting purpose into choosing texts and starting the year with an "All About Me" project.
"I believe students need to see themselves represented in the classroom and content," she said. "I believe there is no one better positioned to teach about families, customs, and cultures than the students themselves. I create moments where students bring their backgrounds into the classroom."
She believes teaching is a balance of content standards and student relationships. It is failing and adjusting and trying again. It is succeeding and adjusting and trying to do better. Most of all, teaching is working as a successful team – with administrators, teachers, students, families, and community members – and Powell is thankful to be a part of the Burch team.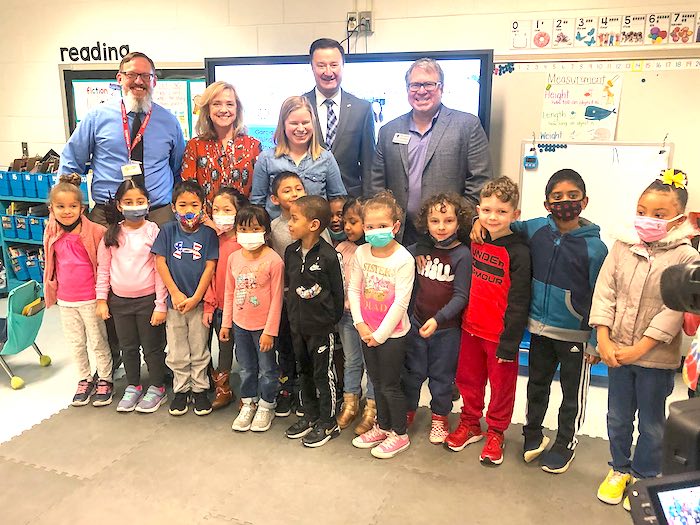 Christy Todd, Rising Starr Middle
Christy Todd is passionate about building opportunities for all kids to create, so much so that she founded the Fayette County Public Schools Community for Creativity initiative.
Todd, with 13 years in teaching, currently facilitates the program at Rising Starr Middle, where she supports student creation of songs, podcasts, videos, games, audio books, and more, which are then released through the school's entertainment label, Hall Pass Entertainment.
You will find her in the school teaching classes, leading professional development, making online learning modules, collaborating with industry partners, posting content, and giving feedback to student creators.
"As the facilitator for our school's Community for Creativity program, I have the unique opportunity to weave essential skills into standards-based curriculum," said Todd. "I help students create products across different classrooms and subject areas, deepening literacy through a variety of mediums."
Over the past 4 years, she's supported over 150 students completing a middle school capstone project as part of their 8th grade literacy class, including up-cycled denim clothing, a remodeled teacher work room, a website for locating Christmas light displays, a virtual reality tour of the school for new students and parents, and an album of original music released on streaming platforms.
Through teaching, Todd puts three core beliefs into practice: Every student can create, creativity is a tool that can deepen learning across subject areas, and transfer of knowledge must exist outside of the classroom for learning to become relevant and meaningful.
"Our hope is that by using literacy standards to help students connect to their passions, students will develop awareness of the skills they need for the future, along with the drive to work independently on their own." — Provided by the Fayette County School System.