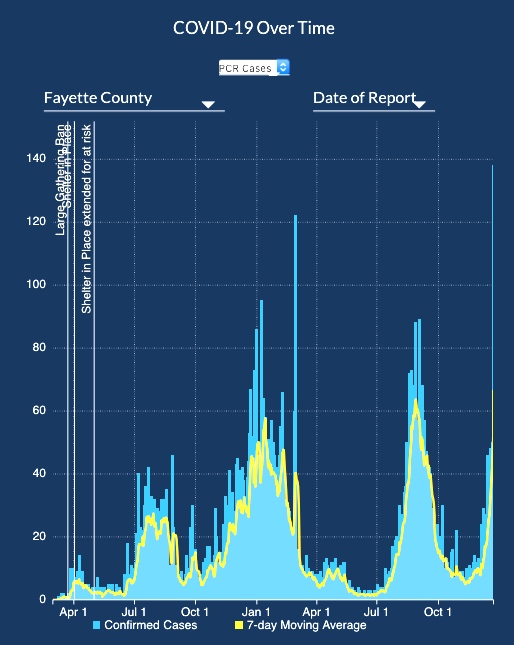 The highly contagious omicron variant has arrived in Fayette with a bang, just in time for Christmas. Fayette has recorded 2 days in a row of record numbers of new cases: 106 on Wednesday and 139 on Thursday, according to the Georgia Department of Public Health.
The 2 days represent the highest number of new Covid-19 cases of the entire pandemic since its start in March of 2020, the DPH figures show.
There's no way of knowing from the DPH reports how many of the new cases were unvaccinated persons or were so-called break-through cases of persons having previously received their Covid shots.
A look at the DPH chart of new confirmed cases shows that this fourth surge has outpaced previous Covid peaks in Fayette, happening quicker and infecting more people.
The 7-day rolling average — depicted by the yellow line — has risen higher than any 7-day average peak since March 2020. It stands at an average of 66.7 new cases a day, higher even than last summer's third wave peak 7-day average of 63.7 that occurred on Aug. 28, 2021.
Officials at Piedmont Fayette Hospital on Thursday urged all eligible unvaccinated persons to get the Covid shots right away, largely to reduce the strain on bed space and available medical personnel at the local hospital.
Fayette now has recorded 10,739 confirmed cases since pandemic start and 224 deaths, along with 685 resident hospitalizations.
The county's 2-week average of positive Covid tests has risen from 3.0% on Dec. 6 to its current level of 11.2% on Dec. 23, according to DPH data.
All public schools in Fayette are closed for the Christmas holidays.