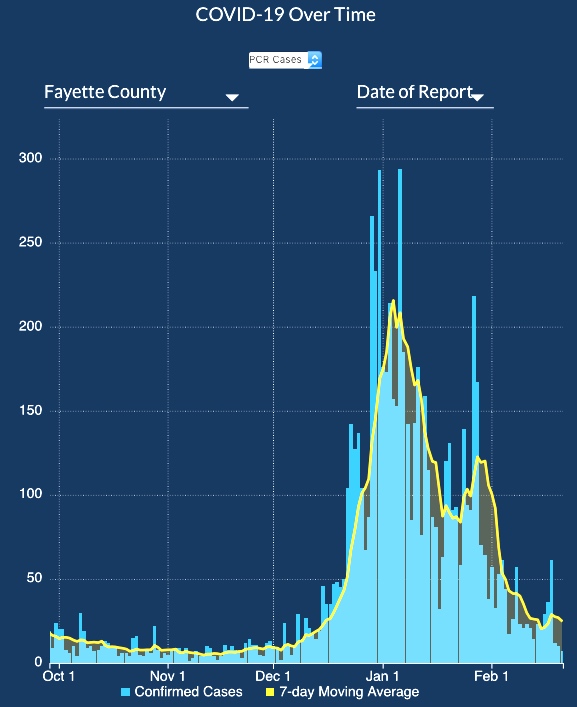 The Covid-19 cases reported to the Georgia Department of Public Health continued their steep decline both statewide and in Fayette County over the past week. The number of test-confirmed Covid cases that occurred because of the increased availability of home testing could not be determined. Those home test results are not part of the totals reported electronically statewide from labs across Georgia to the DPH.  Thus it's likely that actual Covid cases exceed the DPH totals.
Since Valentine's Day, Fayette has recorded 172 official test-confirmed cases as of Monday, Feb. 21, DPH reported. That brings Fayette's pandemic total to 16,591 cases. Cases reported over the past 2 weeks were 357, DPH data showed.
Also continuing a steep decline is the 2-week rate of positive tests reported. Two weeks ago, the 2-week positivity rate was 11.3%, or 11 out of every 100 people tested were confirmed to have contracted Covid. As of Feb. 21, that 2-week rate has fallen into endemic territory — 4.4% positive rate, or under 5 persons per 100 tested.
The fatality rate and hospitalization rate of Fayette residents also has fallen. The death toll locally is at 259 for the pandemic, but there were only 2 fatalities attributable to Covid during the past week since Feb. 14, DPH data showed. During the week 10 residents were admitted to hospitals for treatment of the coronavirus infection. That brings the 2-year hospitalization for Covid to 910 Fayette residents, DPH reported.
No Covid infections occurred last week in Fayette schools because schools were closed for a week's break. The previous week saw a total of 48 new cases in all local public schools — 42 students and 6 school employees. The school system is moving away from pandemic operations later this week and opening things up a bit.
Some epidemiologists are cautioning that the current surge involving the omicron variant of the Covid-19 virus is the fourth surge since the pandemic began in March 2020. Another surge is not out of the question, potentially involving another variant of unknown contagiousness and unknown lethality. The fourth surge in under 2 years involved omicron, of course, which turned out to be extremely contagious but minimally lethal.