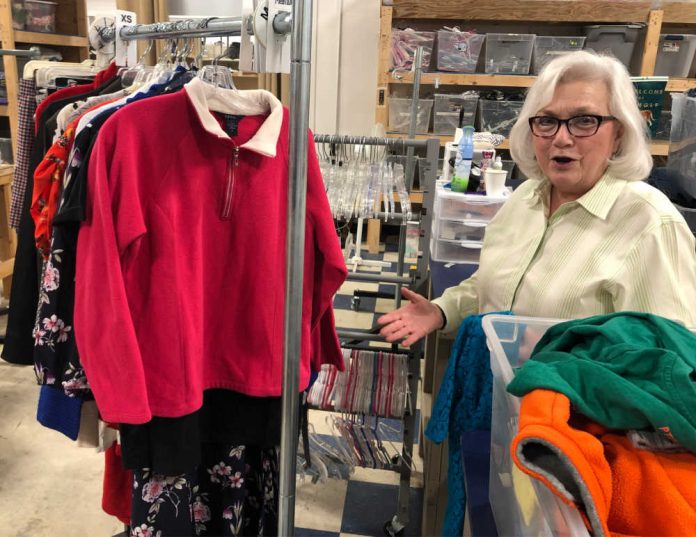 What will you share today? 
The giving season is year-round in Fayette County, where generous people support numerous charities and causes, and neighbors helping neighbors is a way of life. It's how we live. It's what we do.
One organization provides an all-under-one-roof stop for giving back. We support numerous local nonprofits all at once when we donate, shop, or volunteer at Clothes Less Traveled, often referred to as CLT.
"The amazing impact of CLT is the opportunity to give back in so many wonderful ways," says Barbara Harrison, incoming chair of the organization's board of directors. "Very few organizations offer that."
If your New Year's resolutions involve giving back or if you're looking for meaningful ways to plug into the community, you'll find numerous opportunities to do this at Clothes Less Traveled.
Donate Generously
The cycle begins with our donations. When we bring gently used items to CLT's 25,000 sq. ft. store on Hwy 74 S in Peachtree City, profits from these donations become grants to charities in the community. At CLT, the outcome of your downsizing or decluttering is helpful to many people, in addition to clearing the way for what's next in your life.
The four dollars they collect for the perfectly decent blender you replaced with something fancier turns into meaningful support for nonprofits like Fayette Senior Services and the Joseph Sams School.
"People value their donations, and they want to give things to someone who will continue to use or repurpose them," Barbara says.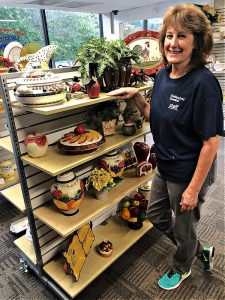 She tells the story of a couple who came and asked to talk with someone about their 12-piece place setting of fine china. They'd been married more than 50 years, and these treasures were more than plates and serving pieces. Their dishes represented a lifetime of special occasions. The couple wanted to be sure someone would appreciate their value.
Barbara explains that newlyweds who could never afford to purchase a new set of fine china often come to CLT to look for options. Donations like this offer an alternative or allow a family or friend to give them something extraordinary.
Your donations may help a single mom shop for back-to-school or a college student furnish their dorm. CLT also helps families who have fallen on hard times by providing vouchers for household goods, furniture, and more. And with inflation rising daily, CLT's reasonably priced quality items are valuable to all of us.
Our generosity and overflow are actually the geneses of everything for Clothes Less Traveled. It all started in Mary Ann Cox's office at Holy Trinity Church, where her closet was bulging with clothes people brought in for needy people in the area. So much so that when she opened the door to show Joan Velsmid the situation, bags and bags fell out and onto the floor. These two ladies decided to solve this problem, and in 2022, CLT celebrates the 25th anniversary of the solution they came up with.
Volunteer Joyfully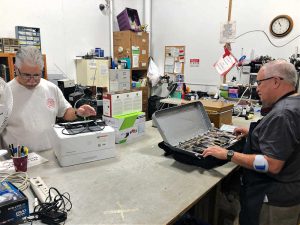 Which brings us to volunteering. Nothing gets unpacked, sorted, shelved, priced, or sold without the help of faithful volunteers. Opportunities to help abound for anyone with a few free hours a month.
"We love our volunteers!" Barbara says, and she points at that there are many benefits to volunteering.
A simple Google search backs up this claim, yielding results from numerous studies which conclude that people who lend a helping hand to others experience mental and physical health benefits as a result.
Mayo Clinic reports that volunteering leads to lower rates of depression and anxiety, especially for people age 65 and over. A Carnegie Mellon study found that volunteer work is linked to stress reduction, which improves overall health. Other reports indicate that volunteering often increases physical activity and that those who volunteer regularly are less likely to develop blood pressure issues.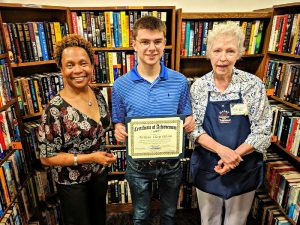 CLT's website lists other benefits, too. For instance, people of all ages benefit from having a sense of purpose and learning new things. CLT offers many opportunities to learn new skills or use the skills you have creatively and productively.  High school students who volunteer at CLT are eligible for scholarships. And CLT loves to accommodate church, school, and civic groups that want to volunteer together.
"Volunteering makes you feel good, and it's a productive thing to do," Barbara says.
What's healthier? Retiring to the recliner or spending a few mornings a month tinkering in the electronics department at a place like CLT?
Feeling isolated? You'll find many new friends at CLT! Looking for a way to spend more time with the friends you already have? Sign up together to volunteer at CLT!
On an average day, you'll find 12 volunteers contributing a total of 81 hours at CLT.  In the past five years, volunteers have contributed more than 134,000 hours of their time to CLT. They are the engine that runs everything at the community thrift store. All CLT asks is that volunteers work four hours a month. Schedules are flexible, and the average shift length is three and a half hours.
Shop Thoughtfully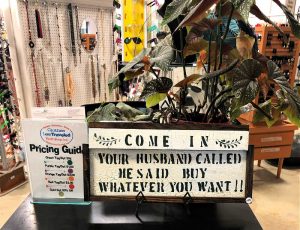 Barbara points out that shopping at CLT is not only budget-friendly, but it's also fun and good for the environment.
People love repurposing projects, she notes.  Instead of buying something new, why not shop locally and repurpose?
"Thrifting is sustainable and quite green," Barbara says.
Recycling and repurposing reduce waste in landfills. What's not to like about that?
More Good Stuff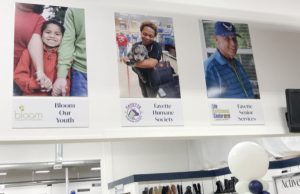 The cycle comes full circle when profits from purchases we make at CLT are reinvested into the community through grants to local nonprofits.
If you're wondering exactly which charities benefit, you'll find posters around the store spotlighting some organizations that receive CLT grants. Places you know well, like Bloom Our Youth, The Joseph Sams School, and Fayette Humane Society, are featured.
Other 2021 grantees include:
One Roof Ecumenical Alliance; Rescue Cats, Inc.; Community Foundation of Coweta, specifically for Newnan Tornado Relief;
Royal Animal Refuge; The Bedford School; Fayette County Special Olympics; ClearWater Academy; Whiskers and Paws; Fayette Senior Services;
Armed Forces Mission; CORRAL; Southern Conservation Trust; FOCUS+Fragile Kids; Fayette Humane Society; Promise Place; Square Foot Ministries;
Project Linus; Fayette Pregnancy Resource Center; Children's Village at Christian City; and St. Vincent De Paul, Holy Trinity.
Even when the store was closed during the pandemic, CLT found a way to give in-kind donations to numerous organizations. At Piedmont Fayette Hospital, they provided karaoke and adult coloring books for the nurses' lounge and cd players and music for patients. They also gave blankets to pet shelters and clothing to Christian City's Children's Village.
A Currency of Sharing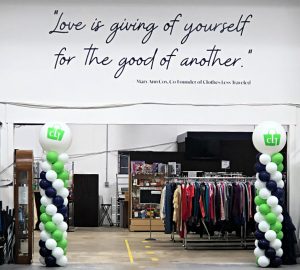 Because of the generosity of donors, volunteers, and customers, since 1977, CLT has poured more than $7 million back into the good causes we love in Fayette County and the surrounding area. That's an impressive, measurable statistic.
It's harder to measure the difference CLT makes in the lives of those who donate, shop, and volunteer there, but you can see it in the smiles on their faces. It's also difficult, perhaps impossible, to calculate the impact of grants made to charities in our area. Still, you can know that when you donate, volunteer, and shop, your investment yields compound interest in the community you love.
Giving back is how we live. It's what we do. And it's priceless.
What Will You Share?
There are numerous ways to give back to the community through donating, volunteering, and shopping at CLT.
If you have gently-used extra stuff, the donations door is open at the store's back entrance Tuesday through Saturday, from 10 am to 3 pm.
If you can spare a few hours a month and would like to lend a helping hand at CLT, email  Michelle Brown, volunteer coordinator, or call (770) 486-8517 ext. 106.
If you're looking for a great value on clothes, household items, books, electronics, furniture, linens, toys, and just about anything else you can think of, CLT is open for shoppers Tuesday through Friday, 10 am to 6 pm, and Saturdays, 10 am to 5 pm. The store is located at 459 Hwy. 74 South, next to Gil-Roy's.
Visit CLT's website, call 770-486-8517, or email for more information.