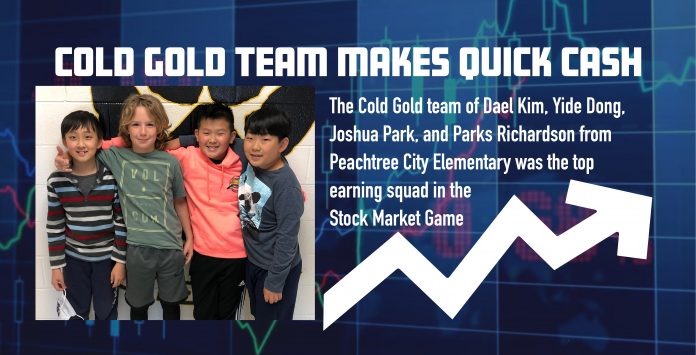 If you need some investment advice, you might want to check with Peachtree City Elementary's 5th graders. Standing out most among the promising Panthers in the Stock Market Game was the Cold Gold team of Dael Kim, Yide Dong, Joshua Park, and Parks Richardson from teacher April Mobley's class.
The top quartet turned a hypothetical $100,000 into more than $128,000 in the 10-week fall stock market trading session, making them and their school the top earners in their congressional district for their grade level.
The Stock Market Game, sponsored by the Georgia Council on Economic Education, gives teachers a tool for showing students how opportunity cost, scarcity, trade, price incentive, and many other economic concepts play out in the financial institutions they hear about on the daily news. The Stock Market Game offers students a safe and pain-free place to learn some of the life lessons of a market economy.
The students will be recognized at a live virtual event on December 8.