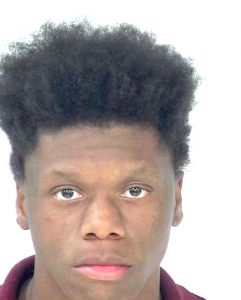 A 17-year-old Atlanta resident has been charged with aggravated assault and armed robbery for his participation in a November 2019 shooting of a Riverdale man at a convenience store on Ga. Highway 138 in north Fayette County. Albert Brown, Jr. was one of the shooters and was 15 years old at the time of the incident.
Albert Brown, Jr., was charged with armed robbery by intimidation and three counts of aggravated assault, according to Fayette County Jail records.
When transported by deputies to Fayette County, Brown was in the Fulton County Jail on other charges, said Sheriff Barry Babb, who also noted that Brown was one of the shooters in the November 2019 incident.
As reported by The Citizen at the time, the Nov. 21, 2019 incident occurred at 9:51 p.m., with deputies responding to a person shot at the Texaco Food Mart store at 2400 Hwy. 138 in unincorporated Fayette County, in the tri-county geographical area that includes Fayette, Fulton and Clayton counties, said Babb.
Babb said the victim, a 21-year-old Riverdale man, told deputies he observed a male subject breaking into his vehicle parked at the gas pumps. The victim, who was inside the store exited, yelling at the male.
The male stole a book bag then fled in a dark-colored Alfa Romeo Stelvio with several other occupants. As the victim returned inside the store, he noticed the dark Alfa Romeo pull back up alongside his vehicle, Babb said.
The victim told deputies he again exited the store to confront the male as he began stealing additional items. It was then that the other occupants of the Alfa Romeo began shooting at the victim, striking him in the leg, said Babb.
Babb said the store front was also struck and a customer getting fuel was forced to take cover by his vehicle as customers in the store hid behind objects during the gunfire. The Alfa Romeo fled the parking lot before deputies arrived.