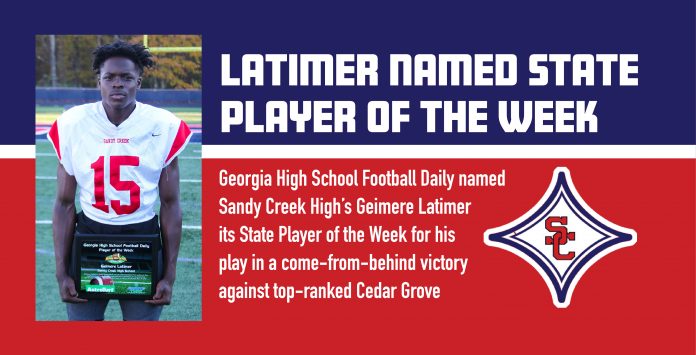 Among more than 400 high schools in the state with thousands of football players, Sandy Creek High's Geimere Latimer stood taller than them all on Nov. 5. For his standout play in a come-from-behind victory, Georgia High School Football Daily named Latimer its State Player of the Week.
Latimer was lights out against Cedar Grove, the top-ranked team in their classification coming into the game, ending their 34-game region winning streak. With his team trailing 35-19 in the second quarter, Latimer scored a trio of touchdowns in the second half to complete the wild rally.
Latimer had a game for the ages, completing 24 of 41 passes for 311 yards and 3 touchdowns with no interceptions, along with 77 yards rushing and 3 more scores.
Georgia High School Football Daily is a free e-mail newsletter published weekdays from August through December.