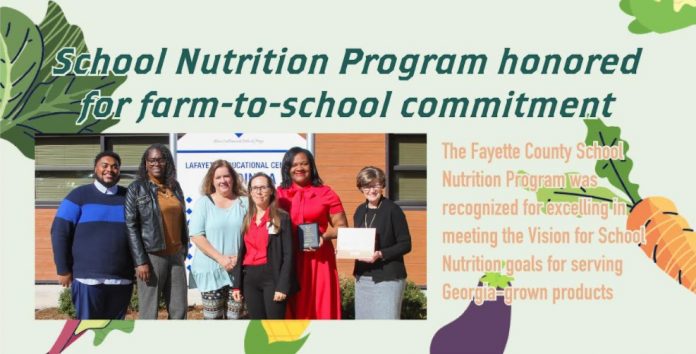 The Fayette County School Nutrition Program has been honored for the success of its farm-to-school efforts. The program received a "Vision District" sign for excelling in meeting the 2020 Vision for School Nutrition initiative.
The 2020 Vision project called for at least 20 percent of every school meal in the state to be comprised of Georgia-grown products. In addition, 20 percent of Georgia public schools were challenged to reach the 50-percent mark for their menu content.
The School Nutrition Program provides three main areas of support: quality meals, student and community engagement, and professional development. Farm-to-school helps integrate these three main areas into school meals that aid in providing coordinated support across the state for higher student achievement.
Across the 2019-2020 school year, over $59 million was spent on Georgia-grown foods served in school meals across the state.