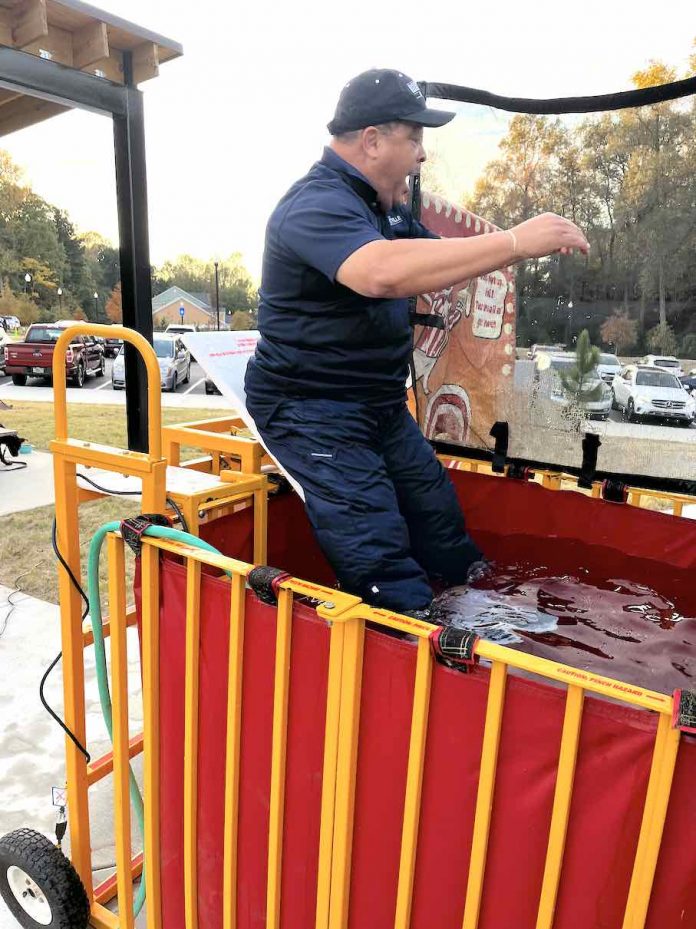 The late afternoon hours on Nov. 6 in Fayetteville came with the heavily-attended Carnival in the Park, held in City Center Park behind City Hall on Stonewall Avenue.
The family-friendly event came with endless activities that included music, food, performers and endless games for the kids.
The carnival and its many activities filled the large, thoughtfully-outfitted and family-friendly City Center Park that has become the hub for all kinds of passive recreational and entertainment venues.
Running from 5-9 p.m., the park was a non-stop buzz of activity and was attended by crowds too large to count.
Activities in the late afternoon, such as a pie-eating contest for kids, gave way to other offerings, such as a fire-twirler exhibition once the daylight hours faded.
A different kind of activity was resurrected for the carnival, one that has not occurred in Fayetteville during the past several years — a dunking booth. The weather on Saturday was chilly, but that did not stop Mayor Ed Johnson, Councilman Scott Stacy and Police Chief Scott Gray from climbing in the booth and waiting to be dunked by the line of kids determined to show-off their pitching skills by hitting the big red button and landing the three in the drink.
This was nothing new for Fayetteville officials, some of whom over the years, like Stacy and Johnson, have done what many adults will not do — take part in seemingly silly frivolities, like climbing onto inflatables for kids or riding a tricycle on the old courthouse lawn, all in the name of fun while being young-at-heart.