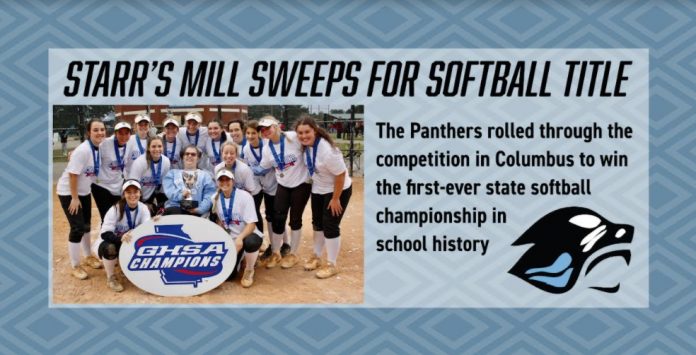 For years, Starr's Mill has been one of the state's best softball programs, but the ultimate prize has eluded them…until now. On Saturday afternoon in Columbus, the Panthers completed a dominant run through the playoffs with a 9-0 win over Northside to claim the first state championship in team history.
"It is one of the best feelings you can ever have as a coach," said Starr's Mill coach Peyton Dean. "More than anything, it's rewarding to see the girls' and coaches' hard work pay off."
They only needed 5 innings to finish it off against Northside. The Panthers came out scalding hot as they jumped out to a 5-0 lead in the 1st inning, and they ended any comeback hopes for the Patriots, exploding for 4 runs in the top of the 5th.
"Every win all season long was such a TEAM win and more so this weekend," said Dean. "Every single girl contributed to each win in some way. It was not just three or four key girls making the plays or coming up with the hits. Every single person on the team contributed to the state championship."
It didn't always look like Starr's Mill was destined to be a champion. They had to shake off a sluggish start to the season that saw them 4-5 and trailing in the region standings. Faced with adversity, they turned up the heat and went 16-1 the rest of the way.
"The girls really bought into playing for each other and taking each game one pitch, one out at a time by focusing on what we do with the little things," said Dean.
They swept through the first two rounds of the playoffs, going 4-0 against Locust Grove and Jackson County and outscoring them 25-2. Little changed once they got to Columbus for the final tournament, where they went 4-0 in the double-elimination tourney, outscoring the competition 18-1.
All season long, lefty pitcher Lilli Backes was the ace the team needed. As the games meant more, she got even better, allowing just 3 total runs in the playoffs. Along the way, Backes, the University of North Carolina commit, threw her 900th career strikeout in the semifinals
"Absolutely unbelievable. Some athletes take it to a whole other level on the biggest stages, and Lilli is one of those athletes," praised Dean. "She was locked in from the very start of playoffs, and nothing was going to stop her from helping the Lady Panthers win a state title."
The state softball championship is just the second in county history and the first since Fayette County won the crown in 2002.