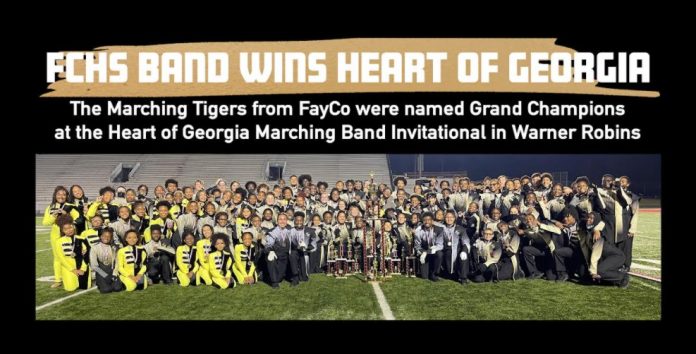 The Fayette County High marching band is the best of the best. At the recent Heart of Georgia Marching Band Invitational in Warner Robins, the Marching Tigers dominated the competition, earning the crown of Grand Champions.
Their list of honors from the competition is lengthy: Best in Class 4A Overall Band, Best in Class 4A Drum Majors, Best in Class 4A Color Guard, and Best in Class 4A Percussion.
Among the entire competition across all classification, they won Best in Show Color Guard, Best in Show Drum Majors, Best Music, and Best General Effect.
The Tigers also earned all Superior ratings in Overall Band, Drum Majors, Color Guard, and Percussion.
This year's show is entitled "Both Sides" and celebrates music from classical to pop and marching band styles, from traditional to corp. Musical selections include Mozart to Motown ("Eine Kleine Nachtmusik" by Wolfgang Mozart and "Get Ready" by The Temptations), Dvorak to Dylan (Largo from the "New World Symphony" by Antonin Dvorak "Make You Feel My Love" by Bob Dylan), and Beethoven to Bruno (Finale from "Symphony No. 9" by Ludwig Beethoven and "Just the Way You Are" by Bruno Mars).
The Marching Tigers' Drum Majors are Emily Sepulveda, Uyen Thao Huyhn, Anthony Johnson, and Daylon Peterson, and they are under the direction of Dr. Myra Rhoden and Jennifer Theilacker.