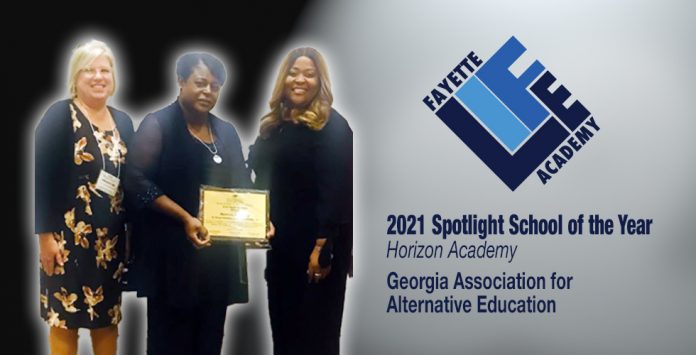 A re-brand of Fayette County Public Schools alternative education program has breathed new life into the school system's nontraditional educational offerings, garnering one of them statewide recognition as a model for others to follow.
Formerly known as the Fayette County Alternative School, Horizon Academy, operating on the Fayette LIFE Academy campus, has been named the 2021 Spotlight School of the Year by the Georgia Association for Alternative Education (GAAE). Horizon was announced as a finalist for the award in August, along with alternative schools from Bibb and Gwinnett counties. GAAE represents over 400 nontraditional educational programs in Georgia. The winning school was announced on September 23 at the association's annual conference.
The honor recognizes a school that incorporates exemplary practices each day in a nontraditional setting. Winning schools embody the 15 exemplary practices for alternative education programs that have been established by the National Alternative Education Association (NAEA). The comprehensive list of practices relate to leadership, climate and culture, curriculum and instruction, parent involvement, and more.
Horizon Academy is one of four programs housed under the Fayette LIFE Academy umbrella that serves nontraditional students from all backgrounds and learning challenges. The Fayette County Alternative Program changed its name to Fayette LIFE Academy in the fall of 2020 to accurately reflect the program's new shift in climate and culture, and to help increase the enrollment of students looking for a fresh and different approach to learning. LIFE is an acronym that stands for Limitless Innovative Flexible Education.