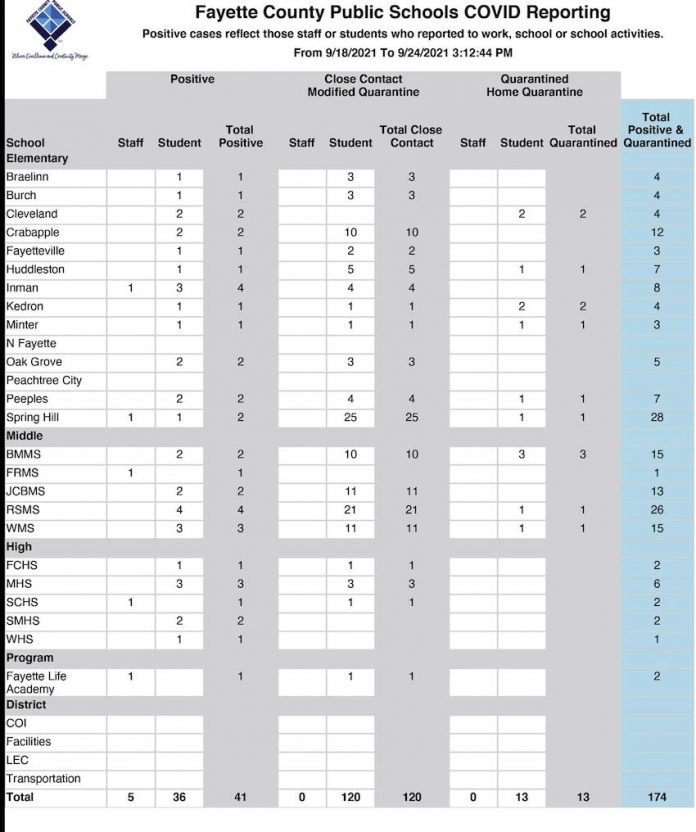 Fayette's 2-week infection rate falls to 5.6% — 
No dramatic reduction in new Covid-19 cases among students, teachers and staff of Fayette County's 25 in-person education facilities last week, but there has been a steady downward trend, the system's weekly report showed Sept. 24.
As of end of school Friday, the report shows 41 new cases — 36 students and 5 school staff members. The two previous weeks showed 49 new cases — 45 students and 4 staffers — on Sept. 17 and 58 — 43 students and 15 staffers — on Sept. 10.
Quarantine numbers still fluxuate
What has shifted up and down are the numbers of people affected by exposure to the virus and resulting quarantines, although full at-home quarantine has fluxuated within a small range.
Three weeks ago, the full quarantine total was 20 staff and students. Then two weeks ago, that number rose to 25, and this past week, the total fell to 13.
The biggest deviations are in the weekly in-school quarantine numbers. Three weeks ago, the close contact modified quarantine total was 71, all students. Two weeks ago, it was 130, all students except for 1 staffer. Last week, it was 120, all students.
Modified quarantine comes into play when both the infected individual and the non-infected person were wearing facial coverings at all times during the close contact period, according to the school system. The mandatory masking allows the system to use in-school quarantine for the uninfected person, according to Superintendent Dr. Jonathan Patterson. Without the combination of masks and in-school quarantines, hundreds more students would be required to be absent from in-person classes for periods up to 2 week, officials said.
Mask mandate and reevaluation points
The system has explained that mandatory masking in all schools will remain in place at least until the end of October. A reevaluation at month's end will look at (1) whether school numbers remain below 1% of the total school population of more than 2,200 students and staffers and (2) whether Fayette County numbers outside the school system have fallen below 1% countywide over a 2-week period, with unspecified improvements in the current overcrowded conditions at Piedmont Fayette Hospital.
For the record, the last period Fayette County was at 1% or lower new infection rate was a stretch from May 19 this past spring through the middle of July this past summer.
Fayette's most recent 2-week test-confirmed new infection rate is 5.6% on Sept. 24, according to the Georgia Department of Public Health.https://dph.georgia.gov/covid-19-daily-status-report
Fayette's infection rate falls nearly 4 points
The highest 2-week rate for Fayette during the recent Covid surge was 9.5% reported on Sept. 20, literally last week. During that 6-day period, the 2-week rate in Fayette has fallen 3.9 percentage points to its current rate of 5.6%, giving preliminary indications of a post-surge in rapid retreat.
One possible explanation may be the Covid vaccination numbers in Fayette, at 58% the highest rate of fully vaccinated individuals in the state of Georgia. DPH reports that at least 72,000 Fayette residents (64%) have received at least one dose of vaccinie, while 65,444 Fayette residents are considered to be fully vaccinated.
If you add the more than 9,000 residents who have had confirmed cases and survived, that brings the at least partially protected population to more than 80,000 out of the approximately 117,500 county residents — or about 68%. Subtracting protected residents from the total county population results in a little more than 37,000 uninfected and unvaccinated residents — or around 32% — a dwindling pool of potential new county Covid cases.
Follow the Yellow Line — The graph below from DPH shows the 7-day moving average of new Covid cases among Fayette residents.