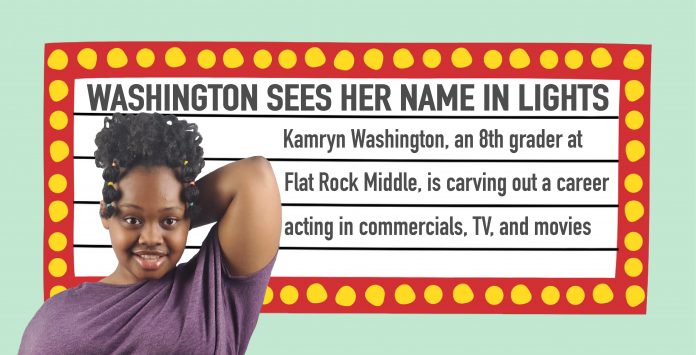 Catch a star on the rise! Kamryn Washington has visions of becoming a famous actor, and she's working hard to make her dream come true.
Washington, an 8th grader at Flat Rock Middle, is already carving out a career for herself. In addition to commercials and stage plays, she appeared in the feature film "The Immortal Life of Henrietta Lacks" and independent movie "The Prayer Warrior." She will soon be appearing in the television shows "Raising Dion" on Netflix and "P-Valley" on Stars.
She is a born performer, and it is her passion to share her love with the world and inspire others.
"Watching girls who look like me entertain most of the world by doing what they love at such a young age intrigued me," said Kamryn. "I was already entertaining my family, so I told my parents I wanted to try it, and I have been working since the age of six."
Her first acting job was in a Walmart commercial, and it was a totally new experience to see herself on TV for the first time.
"I was honestly just so surprised to see myself on TV," she said. "I was so nervous on set, and I wasn't sure how it would turn out. I was so happy to see the final cut."
It isn't always easy. Pursuing her passion means sacrificing other pursuits.
"The biggest challenge I have faced as a teen is not being able to do things most of my friends do because of an audition or filming," she said. "I decided not to tryout for cheer for this year because I was missing too many practices and games last year. I absolutely loved cheering for my friends, but I decided to stay focused on my career. I'm still cheering for them though, just not in a uniform this year."
Does she hope to make acting as a life-long career?
"Yes! This is something I love and hope I can do it for the rest of my life." — Article provided by the Fayette County School System's Chris Dunn